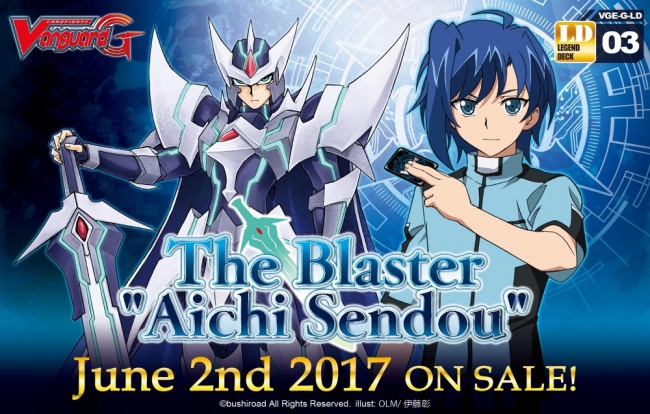 Announced earlier this month (see "
Bushiroad Teases 'Cardfight!! Vanguard G' Releases
"), Bushiroad has released full details on the
Aichi Sendou Legend Deck
for
Cardfight!! Vanguard G
, which releases on June 2.
Aichi Sendou's The Blaster deck contains Royal Paladin units with all new abilities that are revealed with their new evolution. The 58-card deck includes a 50-card deck and 8 G cards/15 card types (including 3 G cards). 18 holo cards (RRR) are included, one of each card type. The deck comes with a special Aichi Sendou deck case (folded), an Aichi Sendou fighter's counter, an Aichi Sendou clan card, 2 special PR cars (Holy Dragon, Religious Soul Saver/ Reissue, non-holo) and a paper playmat. Other cards in the deck include Blaster Blade Exceed, Divine Knight King/ Alfred Holy Saver, Little Tactician - Marron, Hero of Silence - Gallatin, Bringer of Divine Grace – Epona and Great Flash – Iseult. Two copies of Holy Dragon, Religious Soul Saver will be included as a special PR card.
A new Fighters Collection will also be released in June, but details not been announced.