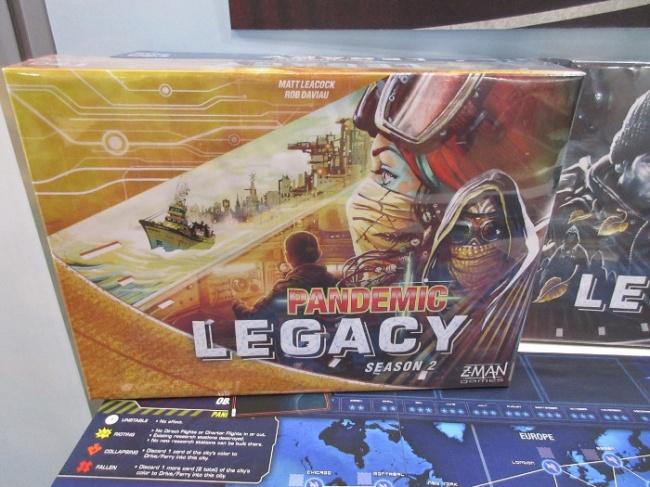 At New York Toy Fair, The Asmodee Group was showing off Z-Man Games' upcoming sequel to the wildly popular cooperative game of disease-curing
Pandemic Legacy – Season 1. Pandemic Legacy – Season 2
will arrive in Q3.
This stand-alone sequel, designed by Matt Leacock and Rob Daviau, is set 71 years after the plague ravaged humankind. The last fragments of humanity have lived in cities near the seas, on floating "haven" stations. But in the past few years, some of the cities have gone dark, and now a small group must venture onto land, not knowing what they'll find. As a "Legacy" game, each 60-minute session changes the state of the board, affecting gameplay elements and narrative of the subsequent game. The game is for 2 – 4 players, ages 14 and up, and an average game takes 60 minutes.
The box contains: a board, 10 character cards, 4 pawns, 9 supply centers, 5 tokens, 36 supply cubes, 8 plague cubes, 53 player cards, 27 infection cards, 82 legacy cards, 4 haven worker cards, 6 dossiers, reference cards, a manual, and much more. Contents in the yellow and black boxes are idential. MSRP is $79.99.
Pandemic Legacy – Season One was released in October 2015 (see "'Pandemic: Legacy--Season 1'"). The game was nominated for the prestigious Kennerspiel des Jahres in 2016 (see "2016 'Spiel Des Jahres' Nominations").
See front and back box images in the gallery below!