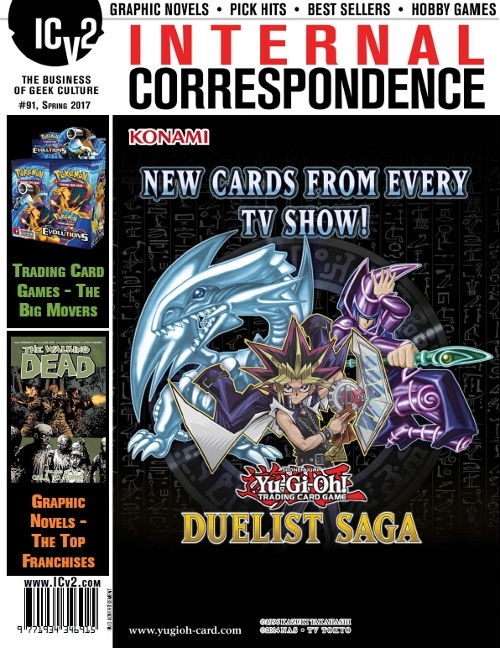 The hobby games business marked an astounding eighth consecutive year of growth in 2016, with the hobby channel growing around 10%, according to retailers, distributors, and publishers interviewed by ICv2 as sources for a report in the latest issue of
ICv2's Internal Correspondence
, #91. The number of people playing hobby games, the number of people shopping at game stores, the number of stores, and exposure of hobby games at major retailers were all up in 2016, reflecting the now-mainstream nature of the hobby.
"We've been a niche hobby for so long, and the last five years we're getting a little bit of major market attention," Bob Brynildson of Source Comics and Games in Roseville, Minnesota said. "It's the difference between ten sales and a thousand sales on a big seller."
Sales of hobby games in mass merchants and specialty retail chains also grew dramatically last year.
Pokemon
drove major increases in collectible game sales in chain stores, with the growth in board and card game sales also dramatic.
The holiday season was particularly strong, with December a rocking month in game stores. "December may have been our hottest month of the year, and probably one of the hottest months we've seen in years," Southern Hobby Supply Director of Retail Sales & Marketing Adam Lovell told us.
For 2017, there's widespread concern that the number of releases is going to be greater than the market can support. "I think we're facing some challenges coming into the new year, just on the basis of the breadth of releases," one distributor told us.
But despite any concerns about the future, the overall mood across the board remains bullish, tied to the continually increasing number of consumers buying and playing games. With another great year in the bank for the hobby games industry, the trade is generally expecting another one to follow.
Here are links to ICv2's charts of the Top Hobby Games across five categories for Fall (September-December 2016), which first appeared in
Internal Correspondence
#91:
Top Collectible Games--Fall 2016
Top 10 Hobby Channel Board Games--Fall 2016
Top 10 Hobby Channel Card and Dice Games--Fall 2016
Top 5 Non-Collectible Miniature Games--Fall 2016
Top 5 Roleplaying Games--Fall 2016
For info on how to get your copy of
ICv2's Internal Correspondence
#91, with the full market reports, Pick Hits of the best upcoming releases, and interviews, see "
ICv2 Releases 'Internal Correspondence' #91
."