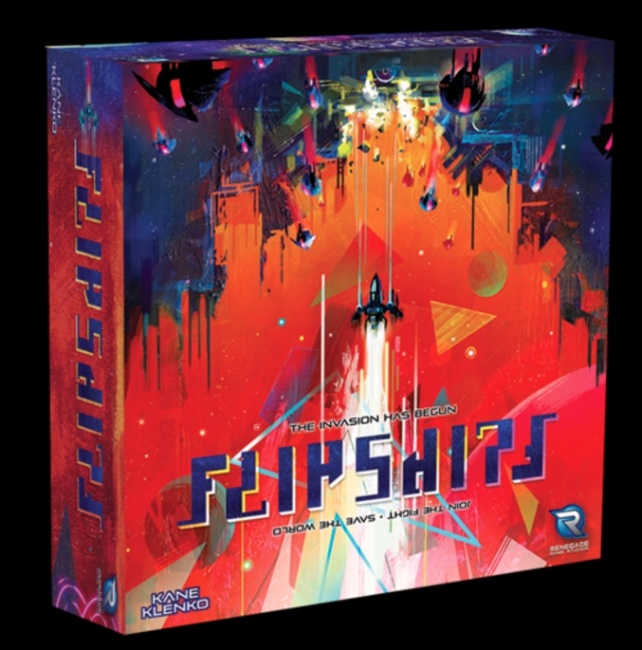 Just ahead of the GAMA Trade Show, Renegade Game Studios has provided details on two summer releases,
Flip Ships
and
The Fox in the Forest
.
Designed by Kane Klenko (FUSE, Dead Men Tell No Tales, Covert), Flip Ships is a cooperative dexterity game set in the middle of a space war. Players take the role of brave pilots, protecting the planet from invading aliens. Players flip their ships to take out approaching enemy ships, with the ultimate goal of destroying the mother ship.
The box contains 28 ship discs, 12 pilot cards, 60 enemy cards, 1 targeting computer card, 1 docking bay card, 1 enemy mother ship, 6 double sided interlocking tiles, 1 city health marker, 1 mother ship health marker, 1 turn order marker, 1 launch pad, and a rulebook. The game is for 1 – 4 players, ages 8 and up, and plays in 30 – 45 minutes. MSRP is $40.00.
The Fox in the Forest
is a two-player trick-taking card game designed by Joshua Buergel (
Hocus
), which is co-published by Renegade along with Foxtrot Games (
Lanterns: The Harvest Festival, World's Fair 1893
). Players use the special abilities of the fairy tale characters to change the trump suit, lead after losing a trick, and other game changers. The goal is to store more points by taking tricks than the other player, but if a player wins too many tricks, there will be punishment, just like in fairy tales. The game is for 2 players, ages 10 and up, and plays in 30 minutes. MSRP is $15.00.
Renegade Game Studios will release Shiba Inu House this month (see "Renegade Announces 'Shiba Inu House'").