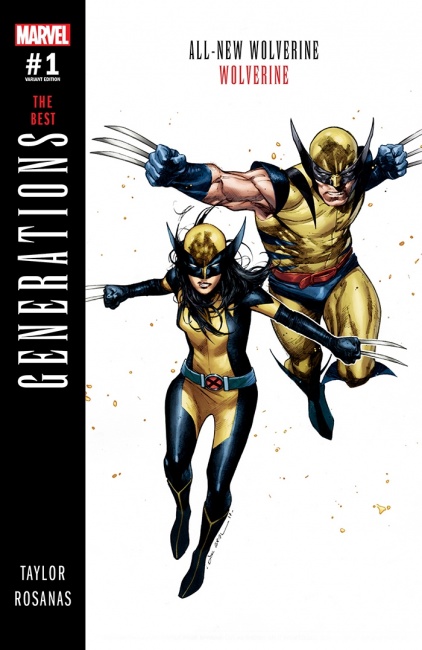 Marvel has revealed the artists behind six of the titles in their
Generations
event.
Generations brings together classic superheroes with their present-day counterparts. In addition to revealing some of the artists behind the project, Marvel also revealed the official titles of the books and dropped some new cover art for the Wolverine book.
The ten-issue maxiseries runs August through September and will include the following titles and creative teams:
Generations: The Americas, featuring Steve Rogers and Sam Wilson – Nick Spencer and artist Paul Renaud
Generations: The Bravest, featuring Mar-Vell and Carol Danvers – Margie Stohl and artist Brent Schoonover
Generations: The Archers, featuring Clint Barton and Kate Bishop – Kelly Thompson
Generations: The Strongest, featuring Bruce Banner and Amadeus Cho – Greg Pak
Generations: The Iron, featuring Tony Stark and Riri Williams – Brian Michael Bendis and artist Marco Rudy
Generations: The Phoenix, featuring The Phoenix and Jean Grey – Cullen Bunn
Generations: The Marvels, featuring Carol Danvers and Kamala Khan – G. Willow Wilson
Generations: The Spiders, featuring Peter Parker and Miles Morales – Brian Michael Bendis and Ramon Perez
Generations: The Thunder, featuring Odinson and Jane Foster – Jason Aaron and artist Mahmud Asrar
Generations: The Best, featuring Logan and X23 – Tom Taylor and Ramon Rosanas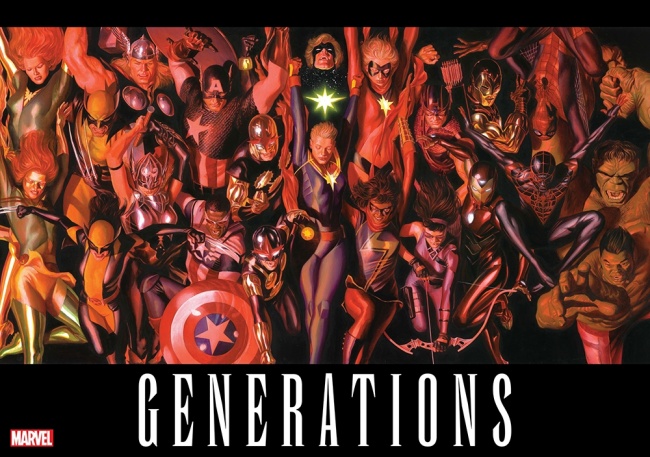 Marvel teased
Generations
in February with an Alex Ross image and began revealing details in March (see "
Marvel's 'Generations' Revealed
").
Generations
has so far been promoted as stories that will impact the Marvel universe, not an alternate universe, separate timeline, or what-if event. The maxiseries will follow
Secret Empire
, which pits the Marvel universe against Hydra agent Steve Rogers (see "
Preview: 'Secret Empire' #1
").