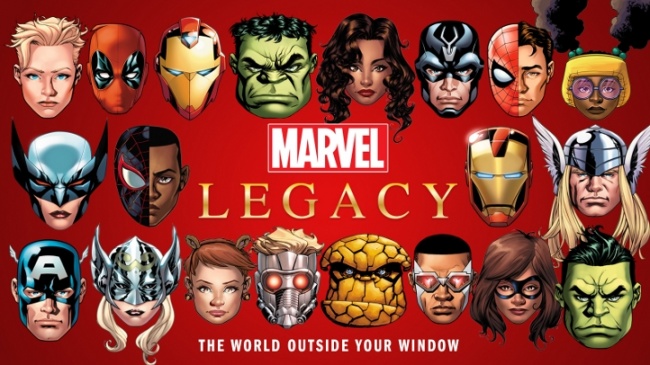 Marvel will return its Marvel Universe titles to their legacy numbering this fall, the company announced over the weekend, with the affected issues featuring special trade dress and cover treatments.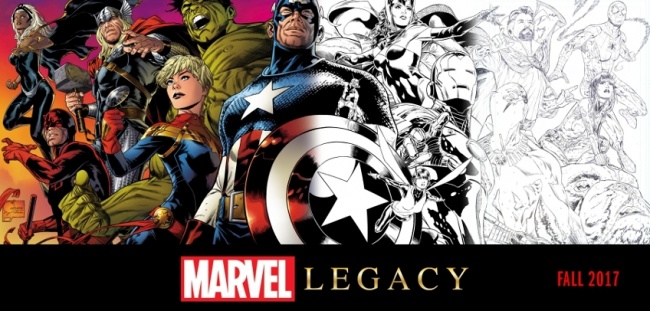 Marvel Legacy is also a new initiative across the entire Marvel Universe this fall, kicking off with a
Marvel Legacy
#1 one-shot, which is designed to offer an entry point for new readers who may not know about current events in the Marvel Universe. This 50-page comic will carry a special four-panel fold-out cover by Joe Quesada, with story and art by Jason Aaron and Esad Ribic.
Aaron offered some hints at the plot of the one-shot. "We get a peek into the very distant past here so we go back to the prehistoric days of the Marvel Universe," he said. "[We are] seeing versions of Marvel's biggest legacy characters and different versions we haven't seen before and [an adventure] of, I guess I could call 'the Prehistoric Avengers.'"
The Legacy initiative will then carry throughout the Marvel Universe, with Marvel promising "epic storylines hearkening back to the glory days of Marvel starring Odinson, Squirrel Girl, Spider-Man, the Avengers, America Chavez, Iron Man, Moon Knight, the Guardians of the Galaxy, Captain Marvel, Luke Cage, the X-Men, Captain America, Ms. Marvel, Deadpool, the Champions, Wolverine, Ironheart, Hulk, The Punisher," and others.
Marvel Editor-in-Chief Axel Alonso promised that the initiative would resolve the question of whether the Marvel Universe can accommodate both legacy and new versions of the classic Marvel characters ("Miles and Peter, Riri and Tony, Thor and Jane Foster, Laura and, dare I say, Logan?"), with the spoiler alert that the answer would be yes.
Marvel sales dropped off last fall, with old-school fans upset about the number of changes to core characters. "The feedback was that we had changed too many characters," Marvel SVP Sales and Marketing David Gabriel said at the Marvel Retailer Summit last month (see "Marvel Retailer Summit – Day 1, Part 1").
Now Marvel appears to be trying to win back some of those fans, while hanging on to the readers that have been buying the new versions of the characters, promising "a renewed sense of hope, wonder, enjoyment, and fun." In another foreshadowing of a return of a core element of the Marvel Universe, Executive Editor Tom Brevoort promised "the return of a central piece of the Marvel mythos that readers have been mourning in recent months."
With Generations, coming out of Secret Empire, pairing new and old versions of key Marvel characters, (see "Marvel Reveals Six Artists and New Cover for 'Generations'"), and then the Legacy one-shot and the rest of the Legacy initiative, Marvel is showing a well-planned approach to rejuvenating its relationship with some of its biggest fans.
Click Gallery below for full-size versions of both images!