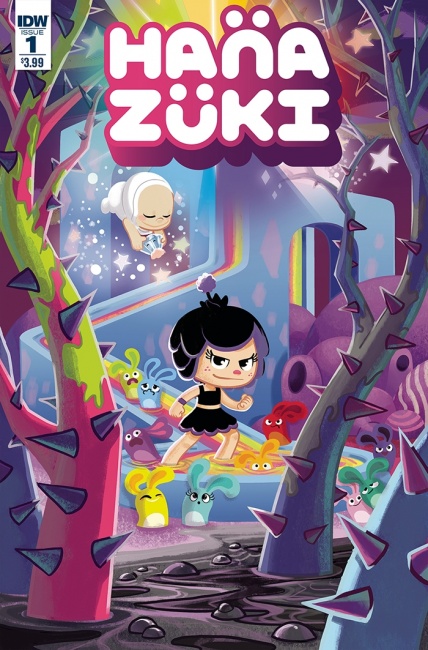 The hit digital web series
Hanazuki: Full of Treasures
is coming to comics courtesy of IDW.
Written by David Mariotte and drawn by Nico Pena, Hanazuki: Full of Treasures kicks off with an adaptation of the first episode in the digital web series, "A Moonflower is Born," which has more than 3.6 million views on YouTube. The issue tells the origin tale of protagonist Hanazuki and her mission to protect the Hemkas and treasures that can hold back the forces of darkness in a fictional galaxy under attack by a big black cloud called the Big Bad.
The first issue features retailer incentive covers by web series artists Nicoletta Baldari and Christina Ellis. It will be in stores on June 7.
The whimsical and colorful web series is produced by animation house Titmouse (Metalocalypse, TMNT: Don vs. Raph) and toy giant Hasbro. The series launched in January, with an immersive digital app following in April and a toy line coming in June.