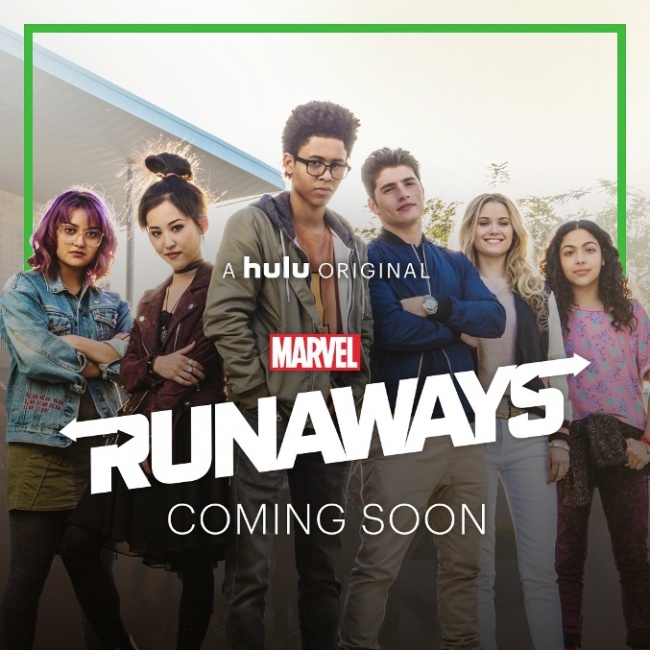 Hulu has ordered
The Runaways
to series reports
Deadline
. The production also released a new still of the cast.
The Runaways is based on the award-winning Marvel comic created by Brian K. Vaughan and Adrian Alphona. Hulu ordered a pilot and backup scripts for The Runaways last year (see "Marvel's 'Runaways' Receives Order From Hulu"). This order allows production to go forward on the remaining episodes in the first season.
A release date has not yet been announced. (And still no word on Old Lace the dinosaur.)
The Runaways is being developed by Gossip Girl creators Josh Schwartz and Stephanie Savage, and the core cast was announced in February (see "'Runaways,' 'Black Lightning,' and 'The Devil'"). Buffy and Angel favorite James Marsters (Spike) heads the supporting cast for the series (see "James Marsters in 'Runaways'").
Vaughan and Alphona's series kicked off in 2003 and focuses on a group of teenagers who band together to fight their parents after the teens learn they are part of a criminal organization. The acclaimed series eventually earned an Eisner for Vaughan, a Harvey Award, and a place on YALSA's Top Ten Great Graphic Novels for Teens list (see "YALSA Picks the Top Ten Graphic Novels"). Its popularity was an early indicator that there was an audience for superhero comics among younger readers and women.
A shaky video of a trailer shown at Hulu's upfront presentation appeared online for a few hours today but was quickly taken down after copyright notices were issued.