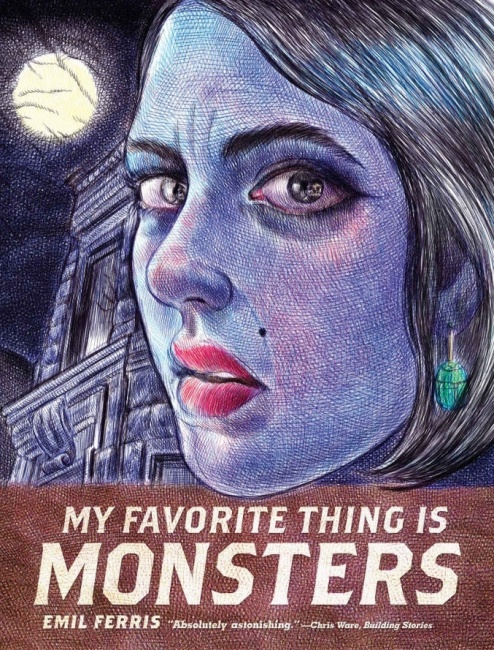 Fantagraphics has scheduled a third printing of 30,000 copies for Emil Ferris's
My Favorite Thing is Monsters
, which will bring the total copies printed since the book was first released in February to 70,000 copies. That's a pretty amazing print run, representing nearly $2.8 million retail worth of the $39.99 tome, an unprecedented sales level for a first graphic novel by an unknown creator.
We asked Fantagraphics Publisher Gary Groth if he could think of anything that compared to how this title blew up. "No, I can't think of another graphic novel strictly analogous to this one in terms of the ratio between success and the obscurity of the author," he responded by email. "There's Maus, of course, and Spiegelman was largely unknown to the book buying public, but a prominent underground cartoonist for almost 20 years, and the same could be said about Fun Home and Alison Bechdel. Those are the closest I could come, and they aren't that close."
We also asked Groth what factors he thought were contributing to the sales. "As to why, hey, if I knew why, I'd make sure all our graphic novels by unknown cartoonists become best sellers," he said. "I think it's partly a combination of the increasing awareness of graphic novels among the buying public and the press and the sheer undeniable sui generis quality of it, the latter of which cannot be often replicated."
My Favorite Thing is Monsters has done well in all channels, according to Fantagraphics Executive Director of Marketing, Publicity, and Promotions Jacquelene Cohen, including comic shops, book stores, online retailers, and libraries.
Based on the charts, book channel sales look particularly strong. The title debuted at #8 on the BookScan Adult Graphic Novel chart for February (see "'My Favorite Things Is Monsters' Charges the Chart"), dropped off in March, presumably due to lack of availability, and moved up to #7 in April (see "April 2017 BookScan – Top 20 Adult Graphic Novels").
The three printings, along with the release date of each, are:
First Printing: 10,000 copies, February 2017
Second Printing: 30,000 copes, April 2017
Third Printing: 30,000 copies, due July 5, 2017