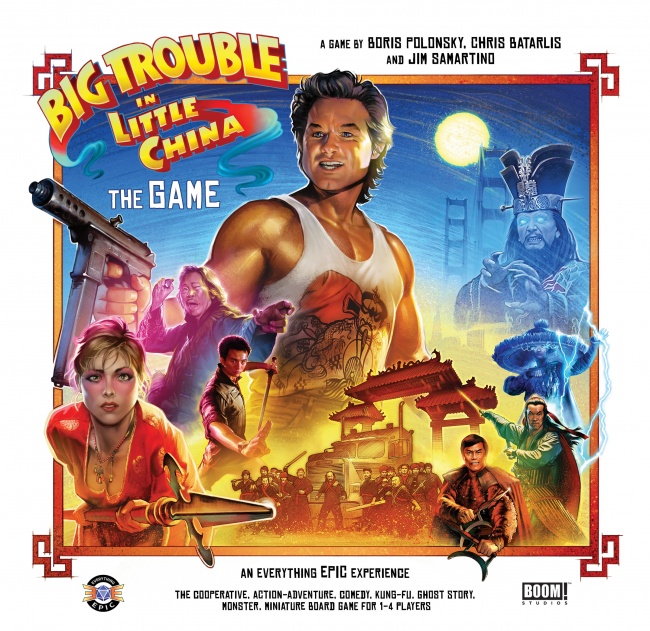 Everything Epic and their partners Flipside and BOOM! Studios have released more details about the upcoming
Big Trouble in Little China: The Game
, currently planned for Q4* release from Diamond and Alliance.
Announced last year (see "'Big Trouble in Little China The Game'"), the new game draws its inspiration from the cult classic film. This is a cooperative game, where players assume the role of Jack Burton and his friends as they try to thwart the evil plans of Lo Pan. The action takes place over two acts, one played on each side of the double-sided game board, first fighting their way through Chinatown before confronting Lo Pan in his lair. Between the acts, the heroes can lick their wounds and upgrade their abilities.
The game uses custom dice to resolve player actions and combat. In addition, the heroes can call upon a communal pool of "Fate Dice" that can give them extra actions or successes, but which have a cost when used. Should a hero pay the ultimate price, they journey to one of the "Chinese Hells." If they can pay the price they can escape, returning to Chinatown to help their friends again.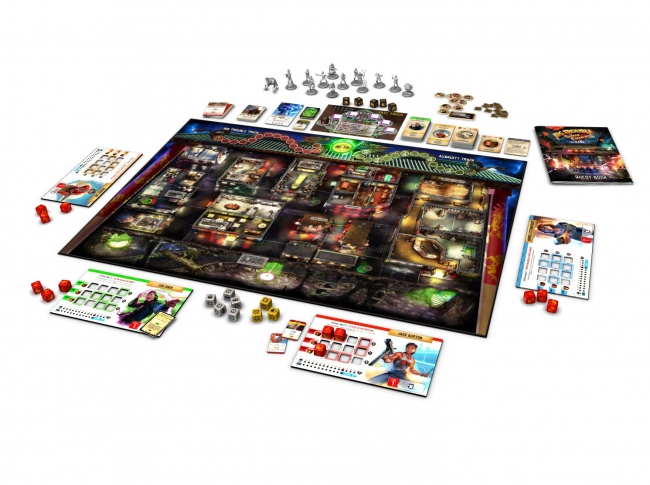 Big Trouble in Little China: The Game
was created by Chris Batarlis (
Secrets of the Lost Tomb
), Boris Polonsky, and Jim Samartino. The game includes a double-sided game board, a Questbook with 15 narrated story quests, 40 plastic miniatures, 38 custom dice, 6 Hero boards, 5 Boss boards, 1 Fate Track, 168 cards, and game tokens. It was designed for 1 to 4 players, ages 14 and up, and takes about 2 hours to play. MSRP is $99.95.
See the Gallery below for images of artwork and miniatures from the game.
To support the launch of the new game, Everything Epic is also offering a Deluxe Limited Edition, only for customers who pre-order the game from their website. The Deluxe Limited Edition includes everything from the basic game plus components for two additional players and an alternate Lo Pan storyline, and comes packaged in a gold box.
Big Trouble in Little China has been enjoying a resurgence in popularity of late, with BOOM! producing a crossover with Escape From New York (see "BOOM! Announces John Carpenter Crossover, WWE Comics, & Movie Deal") a "making of" and an art book last year (see "Celebrate 'Big Trouble in Little China' With Two Releases") in addition to its ongoing comic. Upper Deck, meanwhile, has launched a version of its Legendary game based on the film (see "Upper Deck Stirs Up 'Big Trouble in Little China'").
This will not be Everything Epic's only movie license title, having recently announced plans for a game based on the Rambo film (see "'Rambo: The Board Game'").
[Editor's Note:* Big Trouble in Little China: The Game was solicited in the May Diamond Previews catalog MAY173184 for July release from Everything Epic Games, LLC. An order adjustment will be issued soon, noting the updated release date. BOOM! will be advertising the game in its section of September Previews, noting that the game is the same item previously solicited by EE.]