Brigid Alverson rounds up the latest on kids comics and graphic novels.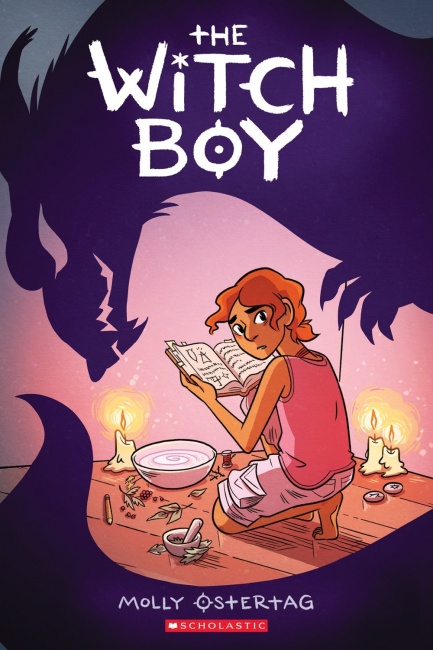 What's Hot, What's Hotter:
Book Expo America took place this weekend, and there were plenty of graphic novels getting big pitches from publishers. One of the top picks was Molly Ostertag's
Witch Boy,
which got a boost last week when
Fox Animation picked up the film rights.
You know a graphic novel is going to be hot when it gets pitched alongside regular prose novels on a middle-grade editors' buzz panel.
Publishers Weekly
wrote that
Witch Boy
, which features a boy who defies his local tradition by becoming a witch (a role reserved for girls), had a "natural middle-grade voice," according to editor Amanda Maciel, and would have cross-gender appeal.
Hot Tea: This writer covered the BEA panel on hot graphic novels of fall for Publishers Weekly, and there are a couple of kids' books that were getting a lot of love. Oni Press is planning a big push for Katie O'Neill's charming The Tea Dragon Society, which Oni will publish as an oversize, full-color hardback—think of Luke Pearson's Hilda books from Nobrow, or a classier version of the Tintin albums (see "Preview: 'The Tea Dragon Society' HC"). O'Neill is the author of the wildly popular queer fairy tale Princess Princess Ever After, but The Tea Dragon Society is a very different book—inspired in part, O'Neill said on the panel, by her love of Pokemon.
The Argentine artist Liniers will have a new Toon early-readers graphic novel out in September, Good Night, Planet, about a stuffed animal who confuses the moon with a cookie. And you can expect to hear a lot about Nidhi Chanani's Pashmina, a tale of the daughter of an Indian immigrant who sees a visions of India when she puts on a magic shawl, from First Second.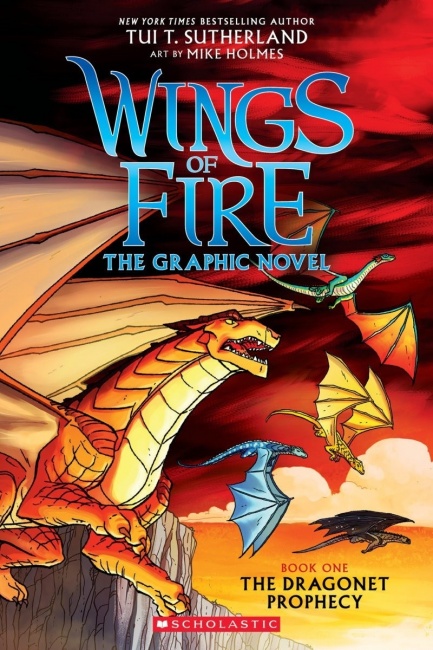 Hot Wings:
Tui T. Sutherland is the author of the best-selling
Wings of Fire
middle-grade novels, which are all about dragons, and now they are being adapted into graphic novels by artist Mike Holmes (
Secret Coders, Bravest Warriors
). Scholastic publishes the
Wings of Fire
prose novels and will handle the graphic novels as well. Heidi Macdonald has the scoop at
The Beat,
along with a statement from Sutherland, who is already a comics enthusiast—she and her kids read
Ms. Marvel, Squirrel Girl, Amulet,
all the good stuff. In addition to her best-selling books published under her own name, Sutherland is one of the constellation of authors who write the
Warriors
and
Seekers
novels (adventure stories about cats and bears, respectively) under the name Erin Hunter.
Left Behind: First Second announced a new fall title on my blog, Good Comics for Kids: Last Pick, by Eisner nominated creator Jason Walz. The title refers to—well, you know in gym class, when the captains picked their teams for dodgeball or whatever, there was always that one kid that got picked last? That's how the characters in this story feel when aliens steal all the "able-bodied" people from earth, leaving only people who are very young, very old, or have disabilities. Everyone left knows they are second best, but a brother and sister decide they have to stir them up to fight back. Last Pick will be out in Fall 2018.
Babymouse Goes to Middle School:
The sister-brother team of Jennifer and Matthew Holm have scored a series of young-readers hits with their Babymouse graphic novels, and now Babymouse is finally being promoted to middle school. In
Lights, Camera, Middle School,
she kicks off her middle school career in typical Babymouse fashion, by joining the film club and planning an ambitious film. The Holms chat about the new series at the Publishers Weekly
PW KidsCast
podcast.
Compass South Continues: Hope Larson and Rebecca Mock's graphic novel Compass South got some good reviews when it came out last year, and at Fleen, Gary Tyrrell waxes enthusiastic about the sequel, Knife's Edge, which is due out on June 28.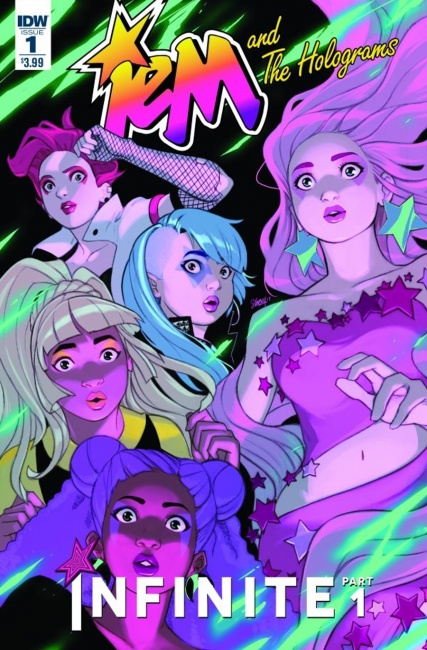 Jem and the Holograms Call It a Day… For Now:
The revived
Jem and the Holograms
comics had a good run (and definitely got better reviews than the movie), but writer Kelly Thompson and artist Gisèle Lagacé are winding their story up with issue #26. In the last issue, Kimber fell into a lava pit, so the finale is bound to be exciting, and to make it even more so, former
Jem
artist Sophie Campbell returns to do the cover. This isn't the farewell tour for the Holograms and the Misfits, though: As Thompson and Lagacé explain in an interview at
Comic Book Resources,
both bands will return in a crossover series,
Infinite,
which will launch in late June.
Reviews and Previews: Top Shelf shared a preview of Surfside Girl, a new middle-grade graphic novel, at Good Comics for Kids; the book will be out in August. Stergios Botzakis reviews Molly Ostertag (her again!) and Sharon Shinn's Shattered Warrior, a sci-fi graphic novel from First Second, at Graphic Novel Resources. At A Fuse #8 Production, Betsy Bird takes a long look at Real Friends, by best-selling kids' author Shannon Hale and LeUyen Phamn. And Kristen Lawson does a quick roundup review of Luke Pearson's Hilda books at No Flying, No Tights.