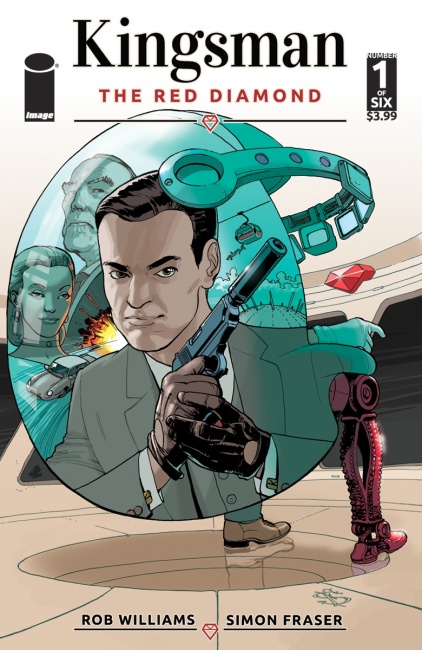 Mark Millar's
Kingsman
is moving from Marvel to Image and will be in the hands of a new creative team.
In April, Millar took to Twitter to announce a new Kingsman series, Kingsman: The Red Diamond (see "Mark Millar Returns to 'Secret Service' Comic"). The new six-issue series will be written by Rob Williams, with art by Simon Fraser. The first issue is due September 6 and will feature several variant covers.
Eggsy continues to develop as a spy, but that doesn't stop his high school crush from rejecting him. He's just helped on a rescue mission to save Prince Phillip, when he's drawn into an international terror plot.
Originally called The Secret Service, the first six-issue run on Millar's satirical spy comic with artist Dave Gibbons was published under Marvel's creator-owned Icon imprint in 2012-2013. The miniseries focused on ne'er-do-well Gary London, who is recruited into MI6 by his uncle Jack London, a top spy in the agency. The series follows Gary's training, as well as the investigation into the disappearance of several celebrities, with comedic and manic violence.
The comics inspired a well-received, if loose, feature film adaptation from director Matthew Vaughn. The character of Gary London was renamed Eggsy, and the new comic miniseries has adopted the change.
Image is also releasing a new trade paperback collection of the original series which features a new cover by Dave Gibbons as well as a limited-edition Fox movie cover. It will be available September 6 at an MSRP of $16.99.
The new comic series and trade come in advance of the feature film sequel, Kingsman: The Golden Circle, which will be in theaters on September 22 (see "Best in Shows--Q3 2017").
Click on the gallery below for cover images.