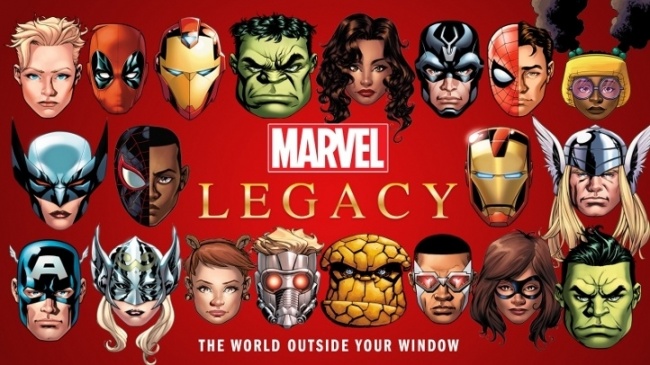 Marvel has revealed new elements of its
Legacy
initiative, which will kick off with a
Legacy
#1 one-shot that leads into series renumbered according to legacy numbering (see "
Marvels to Return to Legacy Numbering
"). Marvel promises that the one-shot is the set-up for 53 Marvel Universe series (that's the new 53, get it?). The first 52 issues, labeled "
Marvel Legacy
story arcs," have been revealed in a graphic, which we've helpfully cut into four chunks for readability and placed in the Gallery below. Marvel has also released a set of 52 covers in a single graphic, also below.
Marvel has pulled the biggest of big guns from its marketing arsenal and has released an endorsement from none other than Marvel Chairman Emeritus Stan Lee, who said of the Legacy initiative, "I love the concept of returning to the classic characters as they were originally portrayed, without losing the brilliance and excitement of Marvel's newest generation of heroes," he said. "Excelsior!"
Among other reveals in the latest announcement:
The new issues will be clean jumping-on points and will be identified with new trade dress.
Heroes will fight villains.
Marvel is going all-in: the Legacy #1 storyline "sets the stage for the coming years of Marvel storytelling."
Legacy #1 will introduce the 1,000,000 BC Avengers.
Marvel is also marketing the new issues aggressively; it recently announced that it will be giving away free copies of Marvel Previews promoting the new issues (see "Marvel Makes 'Marvel Previews' Free for 'Legacy'").
Click Gallery below for 52 new issues in Marvel Legacy.