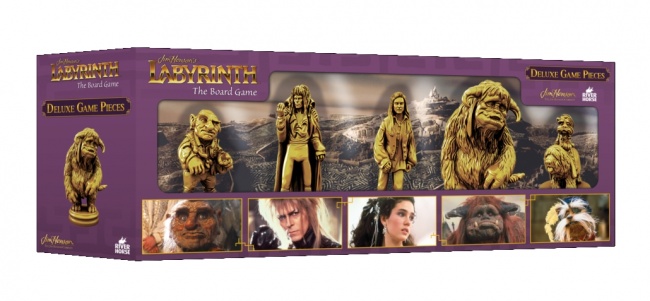 River Horse Games has announced a new deluxe expansion pack for its popular
Jim Henson's Labyrinth: The Board Game.
The hit board game (see "Top 10 Hobby Channel Board Games--Fall 2016") already has a Goblins! expansion due this summer (see "'Goblins!' Invades 'Jim Henson's Labyrinth'"). Now River Horse has announced the Labyrinth Deluxe Game Piece Expansion, which will include figures of Sarah, Hoggle, Ludo, Sir Didymus (and Ambrosius), and Jareth the Goblin King at three times the size of the regular game pieces. The figures are the same size as the originals sculpted for the game by Weta Workshop designer/sculptor Johnny Fraser-Allen. Each piece has a felt base and features a weathered metallic paint job. Release is planned for late 2017. Preorder price on River Horse's website is $100.00.
See multiple images in the gallery below!
There has been renewed interest in the property over the last few years. McFarlane Toys will be releasing Labyrinth figures beginning in November (see "McFarlane Toys to Release 'Labyrinth' and 'The Dark Crystal' Figures"). A new film set in the world of Labyrinth is also in the works (see "'Labyrinth' Universe Expands in New Film"). BOOM! Studios recently extended its relationship with The Jim Henson Company to publish new Labyrinth titles, among other IPs (see "BOOM! Extends Deal with The Jim Henson Company").