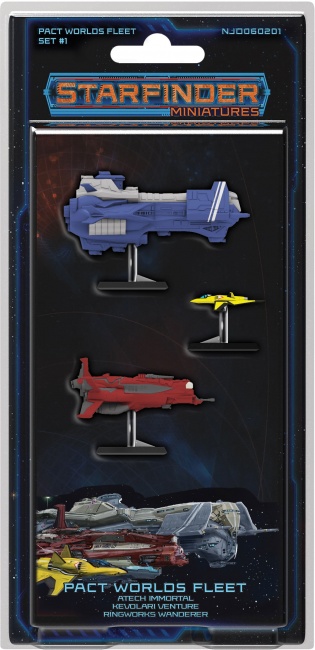 The first wave of
Starfinder Miniatures
produced by Ninja Division under license from Paizo, Inc. will release in Q3.
Announced as part of Paizo's push behind its new science fiction/fantasy role playing game (see "Ninja Division Producing 'Starfinder' Minis"), the Starfinder Miniatures line will feature iconic spaceships and characters from the game setting. The miniatures come pre-assembled and pre-painted, packaged in a clear plastic blister that allows the figures to be seen.
The first wave of miniatures will include a total of seven spaceships and seven heroes, packaged in four different sets:
Pact Worlds Fleet Set #1 comes with three spaceships: 1 Ringworks Wanderer fighter, 1 Kevolari Venture frigate, and 1 Atech Immortal battleship. MSRP is $35.99.
Corpse Fleet Set #1 also includes three spaceships: 1 Death's Head Necroglider fighter, 1 Blackwind Sepulcher frigate, and 1 Thaumtech Omenbringer battleship. MSRP is $35.99.
Iconic Heroes Set #1 features three characters plus one spaceship: the human envoy Navasi, the android operative Iseph, the Shirren mystic Keskodai, and the spaceship Sunrise Maiden. MSRP is $39.99.
Iconic Heroes Set #2 has four characters and one drone, including the Vesk soldier Obozaya, the Kasatha Solarian Altronus, the Lashunta technomancer Raia, and the Ysoki mechanic Quig. MSRP is $39.99.
See the gallery below for images of all four sets.
Paizo will be launching Starfinder at Gen Con next month (see "Paizo Aims for the Stars at Gen Con").