Cryptozoic co-founder Cory Jones has launched a new tabletop game subscription box called
QST
(pronounced Quest), which will release custom subscription-only board games produced by well-known industry talent monthly. The service is currently raising money on Kickstarter.
Each game produced for the service will be a collaboration between three industry professionals who will deliver the three elements for the game: concept, design, and art.
Game concept talent includes Jordan Weisman, Marv Wolfman, Nolan Bushnell, Dan Povenmire, Paul Dini, Justin Roiland, Jhonen Vasquez, Monte Cook, John Kovalic, R.A. Salvatore, Cory Jones, and BROM.
Design concept talent includes Matt Hyra, Adam and Brady Sadler, Matt Riddle, Richard Borg, Florent Grenier, Bruno Faidutti, Ben Cichoski and Danny Mandel, Paul Peterson, James Ernest, Seiji Kanai, Adam Poots, and Matt Fantastic.
Artists include Jakub Rebelka, Robb Mommaerts, Dan Brereton, Eduardo Vieira, Skinner, Yoshi Yoshitani, Jon Vermilyea, Tan Zhi Hui, Erol Otus, Walt Simonson, Ben Templesmith, Vincent Dutrait, and Mihajlo "the Mico" Dimitrovski.
The games will be designed to fit in a small form factor box (4.5 x 5.5 x 1.5 inches), and may include cards, tiles, meeples, timers, dice, spinners, and more. Target game time will be 30 – 45 minutes, for 2 – 4 players, though creators have free rein to deviate.
QST pledges that its games will be collectible, using high quality production and packaging, and art that is unique to the design. The game will not be reprinted for at least a year, and all reprints will have different art and packaging.
Regular subscription rates will be $19.99/ month for yearly, $22.99 / month for six months. The Kickstarter is offering a discounted rate of $12.99/month for the first year. The campaign has a goal of $600,000 and runs through Friday September 29.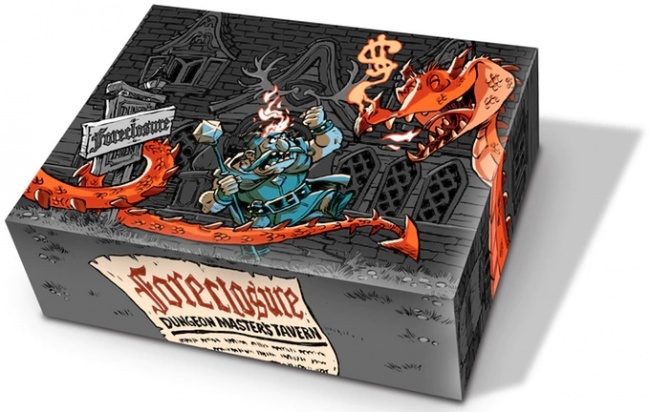 The first game to be released will be
Foreclosure: Dungeon Masters Tavern
, created by Jones (concept), Matt Hyra (design), and Robb Mommaerts (art). The blind auction game casts players in the roll of monsters, bidding against others to acquire loot, while also dodging angry adventurers and sabotage from other players with loot they've already won. The game will be mailed out to subscribers on March 1, 2018.
Jones is the co-founder of Cryptozoic Entertainment and President and CEO of HEX Entertainment. He is designer of the Epic Spell Wars game series, The Walking Dead Board Game, and co-designer of Adventure Time Card Wars.