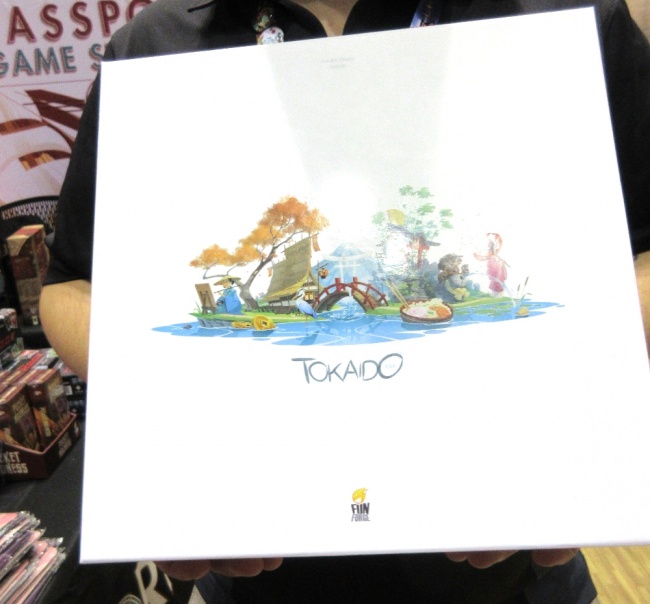 At Gen Con, Passport Game Studios shared information on the new version of FunForge's immersive travel and set collection game
Tokaido
. ICv2 spoke with Passport's Marketing Manager Ryan Skinner to learn more.
"It's still the same as the original edition, but it's the anniversary edition," Skinner said. "It's been five years since Tokaido released. It's been hugely popular, as everybody is aware. Funforge is doing a big overhaul with it. The board is slightly redesigned. It's the same physical size, but the colors, the brightness, and design of it has more pop to it."
"The meeples are updated, so they're slightly different designed," he continued. "The art design on the items and on the panoramas are all slightly different. …(S)tarting the end of this year and into 2018, this will become the new standard Tokaido, as the remaining one filters out."
Skinner also said existing expansions will be compatible with the new version. FunForge is looking into refreshing the expansions at a future date, but nothing has been finalized at this time. The MSRP will remain the same. "It's a new SKU, but it'll just replace the existing one eventually."
Tokaido was designed by Antonine Bauza (7 Wonders, Hanabi) and was released in 2012. There have been several expansions released (see "'Tokaido: Matsuri,' 'Apollo XIII,' 'Titan Race,' More") as well as Deluxe and Collector's Editions. The game was featured on the popular TableTop YouTube series in Season 3 (see "'TableTop' Season 3 Game List Released").
Passport was very busy at Gen Con, releasing both Professor Evil and the Citadel of Time (see "Confront 'Professor Evil and the Citadel of Time'") and hosting new partner Rule & Make's latest game Skyward and the prototype for Terminator 2029 (see "The Battle for the Future in 'Terminator 2' Is Finally Played Out").