Z-Man Games has pulled down an announcement about a new addition to its popular Pandemic game series: Pandemic Rising Tide, out of respect for victims of Hurricane Harvey.
In an announcement on Facebook, Z-Man said "Today we announced Pandemic: Rising Tide… We realize the unfortunate timing of this announcement with respect to those currently being effected by the flooding caused by Hurricane Harvey. It was never our intention to appear insensitive to those that have been displaced, or suffered loss to this terrible disaster."
Z-Man pulled the announcement down off its Facebook page and plans to repost in the future, with details of its plan to donate a portion of proceeds to flood relief programs.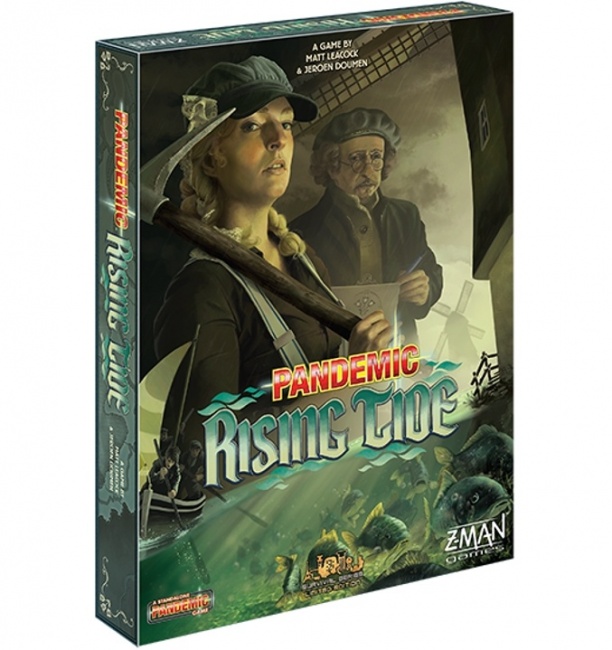 ICv2 had its article on the release written when the announcement was pulled down. We include limited information here to give context to Z-Man's decision, but have not included other details about the game.
Designed by Matt Leacock (Pandemic, Pandemic Legacy: Season 1) and Jeroen Doumen (Food Chain Magnate, Indonesia), Pandemic: Rising Tide has players facing a different force of nature than past iterations of the game, the sea, a parallel that was too close for some and which led Z-Man to its decision. In the game, players are Dutch civil officials, working to modernize the outdated water containment system. They must work cooperatively to build dikes to control water flow and construct new hydraulic structures, while also building ports to facilitate travel of the Dutch people and maintaining windmills to pump the water out of flooded areas. No release date was provided in the initial announcement (Update: Z-Man confirmed to ICv2 that release is planned for Q4. 8/30/17)
The Pandemic franchise is an active one; Z-Man will also be releasing Pandemic Legacy: Season 2 this fall (see "'Pandemic Legacy: Season 2' Emerges from the Darkness").