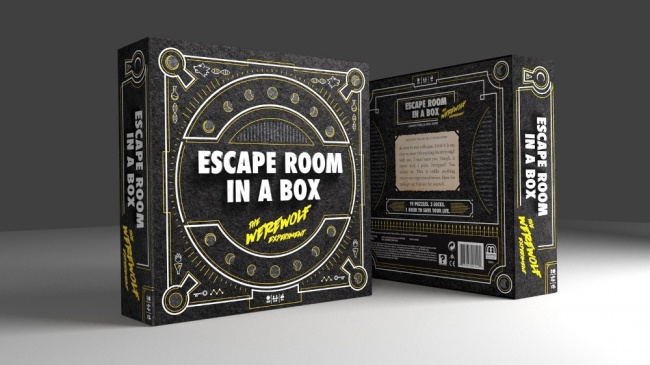 The global "Escape Room" fad has inspired yet another publisher to produce a game: Mattel has announced
Escape Room in A Box: The Werewolf Experiment
, which will release this November.
Like a "real world" Escape Room, this game challenges players to solve a series of puzzles to uncover the clues they need to "escape" from the game, and in this case, cure themselves of a virus that will transform them into werewolves. The players have only one hour to solve all 19 puzzles in the game, which will give them the codes they need to open three locks. Players who have access to Amazon's Alexa can use that device to track the time limit, provide answers to questions, and play a custom soundtrack designed to go with the game.
"We know that in a digitally focused world, consumers are gravitating toward social game play," Mattel's Senior Director of Global Games Ray Adler stated in the press release. "This new introduction brings friends and families together to re-create the thrill captured in the entertainment experience."
Escape Room in A Box: The Werewolf Experiment will be MSRP $29.99.
2017 could be described as the "year of the escape room," with numerous publishers producing games in this genre, including the Kennerspiel des Jahres award-winning Exit series from Thames & Kosmos (see "Three New 'Exit' Titles From Thames & Kosmos") and Space Cowboys' Unlock! series (see "Asmodee Offers More 'Escape Room' Games").