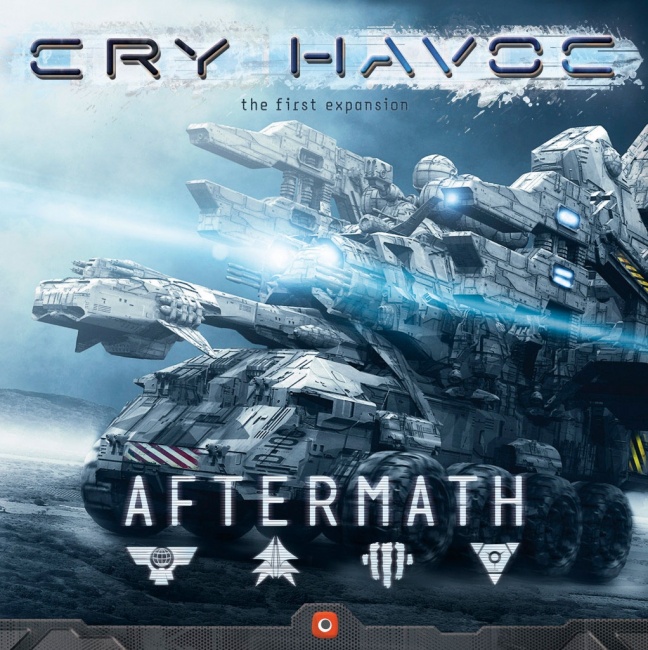 To celebrate the first anniversary of its surprise hit
Cry Havoc
, Portal Games plans to release the new
Aftermath
expansion in October.
Cry Havoc was a bit of a surprise hit for Portal when it released in 2016 (see "Three Portal Games Titles for 2016"), quickly selling through two print runs. The game proved popular with the critics as well as game fans, earning a nomination for the Origins Award for Best Board Game (see "Origins Award Nominees"). Now approaching the end of its first year on the market, Portal is planning a push for the game, highlighted by its first expansion set.
First announced late last year (see "Four New Titles From Portal Games"), Cry Havoc: Aftermath offers more material for the company's card-driven science fiction wargame. The four factions continue to battle for control of a resource-rich world, reinforcing their efforts with new technology and sending new commanders to take charge of the fighting. In addition to new cards and components, the game also offers new scoring events to give players new ways to score points.
Cry Havoc: Aftermath will include 33 cards, 4 Leader boards, 15 structure tiles, and 69 tokens. The expansion requires a copy of the base game to play. Aftermath will premier at the Spiel game fair in Essen, Germany next month. MSRP has not been announced.
Check out the gallery below for a sneak peak at some of the expansion's new elements.
In September, Portal Games will be featuring Cry Havoc in this month's Retailer Support Program promotion (see "Portal Games Launches 'Retailer Support Program'"). The Cry Havoc Game Support Kit features promo cards and a poster with purchase of a case of games.