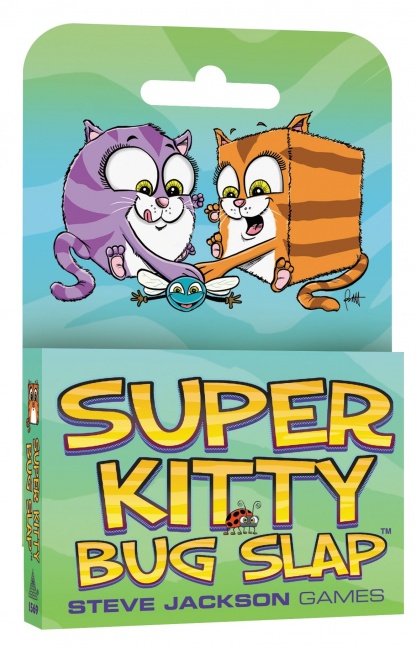 Quick thinking and even quicker paws will be needed for
Super Kitty Bug Slap
, a new reflex-based game from Steve Jackson Games, coming out in December.
The cards in Super Kitty Bug Slap show a variety of cute little kitty-cats in a variety of shapes and colors, as well as wacky little bugs. Each player has a color, shape, or bug that they want to collect, with all players racing to slap the cards that they want as fast as they can. But if a player slaps the wrong card, they'll lose points.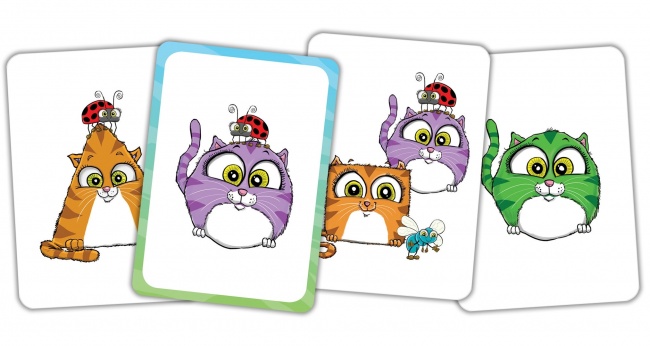 Super Kitty Bug Slap
is a family-friendly game designed by Sam Mitschke and Randy Scheunemann (the duo behind the
Simon's Cat Card Game
and
Bill & Ted's Excellent Boardgame
). It comes with 52 cards featuring illustrations from Len Peralta (
Munchkin Apocalypse
,
Bill & Ted's Excellent Boardgame
). The game is intended for 3 to 5 players, ages 6 and up, and takes 10 to 20 minutes to play. MSRP is $6.95.
Steve Jackson recently revealed its new collectible version of the long-running Munchkin card game (see "'Munchkin CCG' Unveiled at Gen Con").