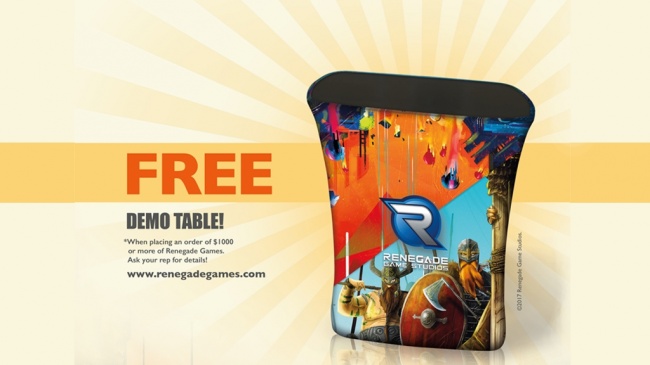 Renegade Game Studios is offering hobby retailers a free demo table as part of its holiday stock-up program.
The tables are available through Alliance Game Distributors to retailers who order $1,000 of Renegade product. If orders are placed by September 15, the order may include all pre-orders, restocks, and back orders expected to ship for the rest of the holiday season. For orders placed after September 15, a single order for in stock products totaling $1,000 or more is required. The tables will be shipped to arrive in October.
"Demo tables are an essential sales tool for board game focused stores," said Sara Erickson, Renegade's Director of Sales and Marketing. "Games should be a beautiful tactile experience, not just sealed boxes on a shelf. Customers want a chance to see what's inside but demo tables can be a very costly addition to a store. We wanted to make it easier for stores to acquire demo tables before the holiday season."
"With so many big releases over the next few months, we are confident that most stores will be able to meet this minimum," Erickson said. "In just October, we will release Scott Pilgrim's Precious Little Card Game, Raiders of the North Sea, Clank! In! Space!, and Ex Libris. Looking ahead into November and December, Pie Town, Planet Defenders, Sundae Split, Dragon's Hoard, Kepler-3042, and the entire North Sea Runesaga will be shipping to stores."
Renegade announced plans to release the complete Garphill Games' Viking game series earlier this month (see "'North Sea' Viking Saga Continues"). It also recently announced two dessert-based games (see "Swirl Up the Perfect Treat in 'Sundae Split'" and "'Pie Town: Spies, Lies, and Apple Pies'").