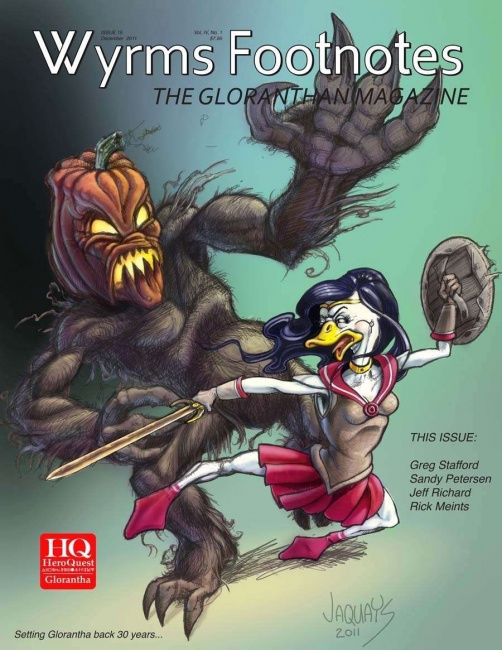 With the relaunch of Greg Stafford's iconic
Runequest
role playing game approaching, Chaosium has announced plans to bring back the short-lived
Wyrms Footnotes
magazine.
Originally launched in 1976, Wyrms Footnotes acted as the house magazine for the World of Glorantha and the games set there. After only 14 issues, the magazine was closed in 1983, though a 15th issue (pictured above) was published in 2012 by Moon Design Publications.
Now Chaosium has again revived the magazine as a way to support the company's products. In a press release, Chaosium Vice President Michael O'Brien described the magazine: "Our goal is for Wyrms Footnotes to be a place where we can regularly publish articles, maps, short scenarios, background, fiction and more, exploring Greg Stafford's World of Glorantha."
Each issue of the magazine will feature a different guest editor, starting with Ian Cooper for Issue #16, David Scott for #17, and Sarah Newton on Issue #18. Chaosium plans to publish the magazine bi-annually, in both PDF and print versions.
Chaosium's updated RuneQuest is expected to release in December (see "Chaosium Returns to Roots with 'Runequest: Roleplaying in Glorantha'").