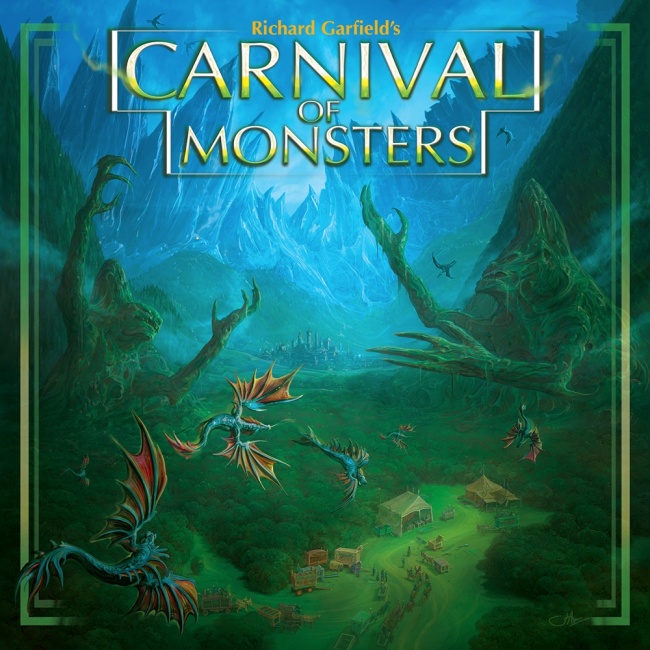 AMIGO Spiel and Freizeit has revealed the cover art for
Richard Garfield's Carnival of Monsters,
ahead of a Kickstarter to fund artwork for the card-drafting/set collection game.
The cover artwork is created by John Avon, who has done artwork for Magic: The Gathering as well as book covers for Arthur C. Clarke, Steven King, and Terry Pratchett.
Garfield (Magic: The Gathering, RoboRally, King of Tokyo) has designed a fantasy card game where players draft card from their hands, attempting to collect sets of matching lands so they can acquire exotic creatures and earn victory points. Players can also hire staff to help them in collecting their menagerie, and purse their own secret goals. As each season ends, players must make sure no monsters escape their care. There are also bonus points to collect based on who impresses the audience most.
The six magical lands and their creatures will be illustrated by different well-known fantasy artists:
Nene Thomas—The Aerie
Drew Tucker—The Depths
Pete Venters—The Caves
Ron Spencer—The Dreamlands
Jesper Myrfors—The Darklands
Mark Tedin—The Enchanted Forest
Larry Elmore will also provide art, for the men and woman who make up the support staff for the game.
The Carnival of Monsters artwork Kickstarter will launch in October, and backers will be able to purchase a limited edition deluxe version of the game with an exclusive box design and upgraded components. AMIGO Spiel plans to have a retailer level on the Kickstarter, but details have not been made available at this time. Trade release (including North America) is planned for Summer 2018 with an estimated MSRP of $54.00.