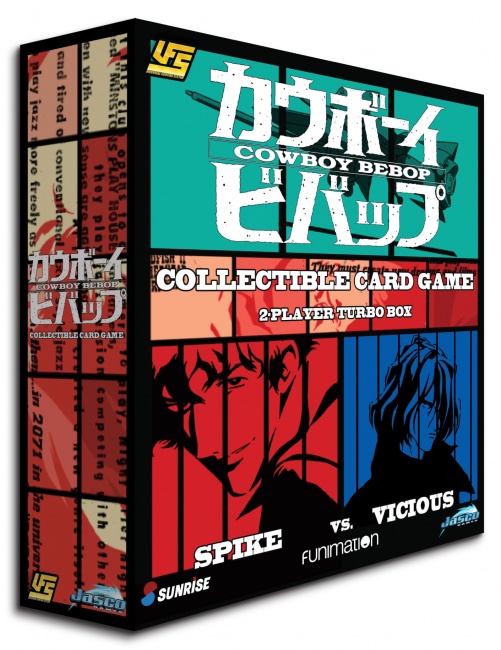 The outer space bounty hunters of
Cowboy Bebop
will be the focus of a new expansion set for Jasco Games'
Ultimate Fighting System
multi-genre collectible card game, releasing in November. A reprint set of popular characters, the
Capcom Platinum Series
will also release next month.
Based on the hit anime series, the Cowboy Bebop Collectible Card Game features all the cards players need to build decks featuring characters like Spike and Vicious and pit them against each other or other UFS fighters from other card sets. Cowboy Bebop will be available both as booster packs or in a 2-player Turbo Box: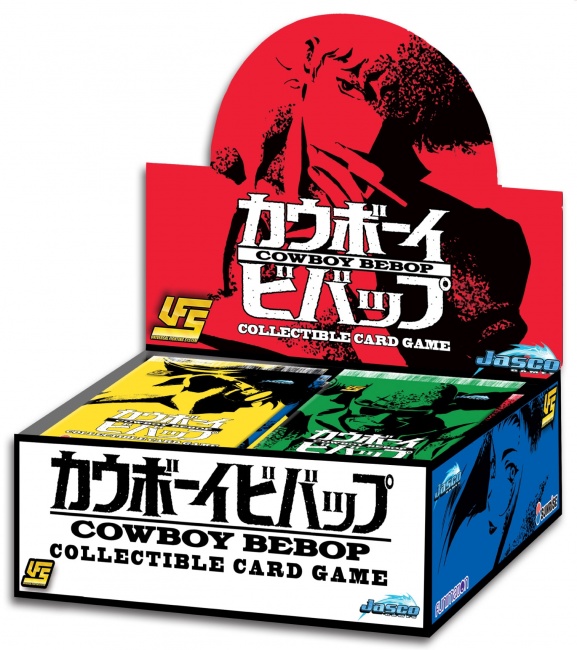 The
Cowboy Bebop Collectible Card Game Spike vs. Vicious 2-Player Turbo Box
includes two complete pre-constructed decks, each with 41 cards, plus a pair of random Ultra Rare cards from the
Cowboy Bebop
set. This 84-card boxed set is MSRP $24.99 and includes everything two players need to play the game.
Booster Displays of the Cowboy Bebop Collectible Card Game will come with 24 10-card booster packs. MSRP is $3.99 per booster. Players need at least one UFS starter deck or turbo deck to use this expansion.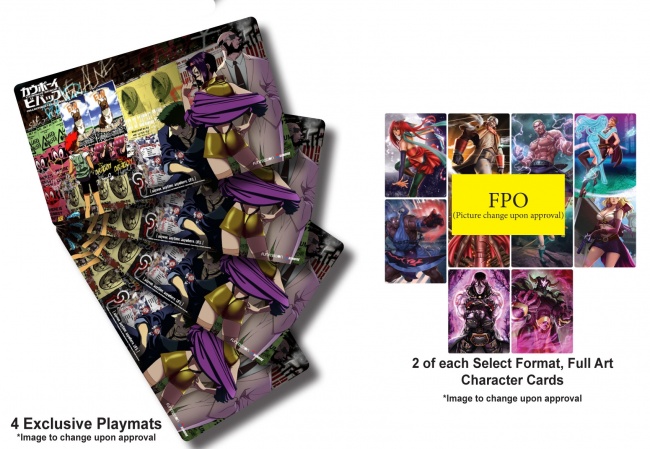 Jasco will support the release with two different
Cowboy Bebop Collectible Card Game
kits for stores that want to host events that coincide with the release of the new expansion. Both kits include four exclusive
Cowboy Bebop
playmats and two each of 10 full-art character cards from the expansion. The
Pre-Release Kit
option also comes with eight booster displays, while the
Release Kit
also includes six booster displays and eight turbo boxes.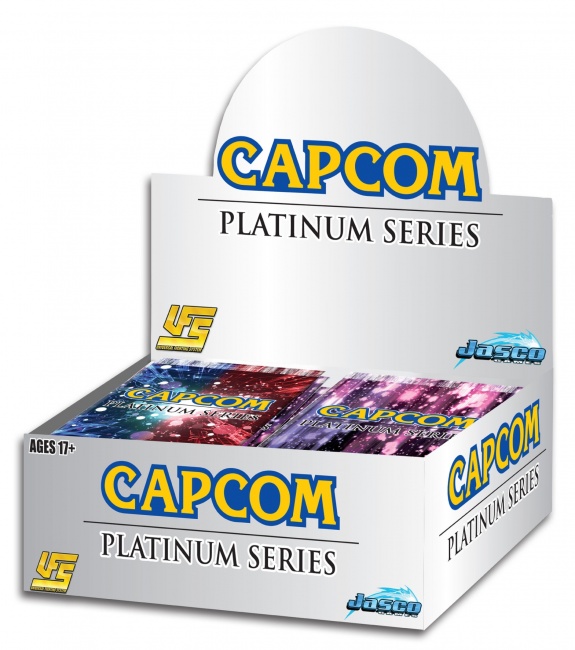 Fans of earlier
UFS
releases can get a boost with the
Capcom Platinum Series
Booster Display
. The 24 10-card packs in this display feature cards from earlier
UFS
releases, including the
Mega Man Tins
,
Darkstalkers Tins
,
Mega Man: Rise of the Masters
, and
Darkstalkers: Warriors of the Night
(see "
New 'Mega Man' and 'Darkstalkers' 'UFS' Releases
"). All of the cards in this set are printed with new card frames and feature foil paper. MSRP is $5.99 per booster.
Jasco acquired a license for Cowboy Bebop games in 2015 (see "Jasco Games Acquires 'Dragon Ball Z,' 'Cowboy Bebop'").