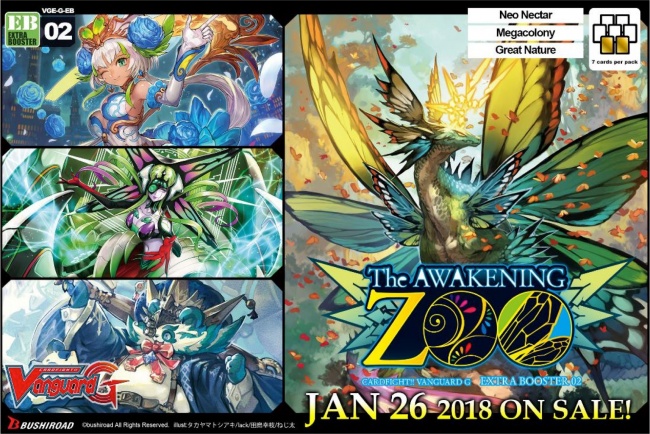 Bushiroad International has announced a new Extra Booster expansion for its
Cardfight!! Vanguard G
trading card game called
The Awakening Zoo
, which will release on January 26.
The Awakening Zoo will include only cards for the clans of the Zoo nation, with a focus on Neo Nectar, Megacolony, and Great Nature decks. A special "Zeroth Dragon of Death Garden, Zoa" card can be used in decks for any of the Zoo nation clans. Other featured cards include a new Ahsha card "Tokoha's Avatar," and the "Queen of Megacolony Darkface Gredora."
The complete set has a total of 76 cards, with 73 new cards and 3 reissued cards, in the following rarities: 1 ZR, 3 GR, 6 RRR, 12 RR, 21 R, and 33 C cards, plus 12 parallel PR cards and 3 Special Reissue RRR cards: "Scissor-shot Mutant, Bombscissor," "Application Researcher, Ponbell," and "Flower Garden Maiden, Mylis." The cards will be sold in 7-card booster packs, which will be available in 12-pack displays. Two cards in each pack will be R or higher rarity.
See the gallery for sample images of card art from this set.
Bushiroad will support the release of the new expansion with The Awakening Zoo Sneak Preview Kit, available to retailers who want to host a pre-release event during the weekend of January 19-21. Each kit includes enough materials for eight event participants: 39 Awakening Zoo booster packs, 9 promo cards, and 2 premium rubber playmats.
The new expansion will release about a month after the Ultimate Stride Booster Pack, scheduled for December 22 (see "'Cardfight!! Vanguard G: Ultimate Stride'").