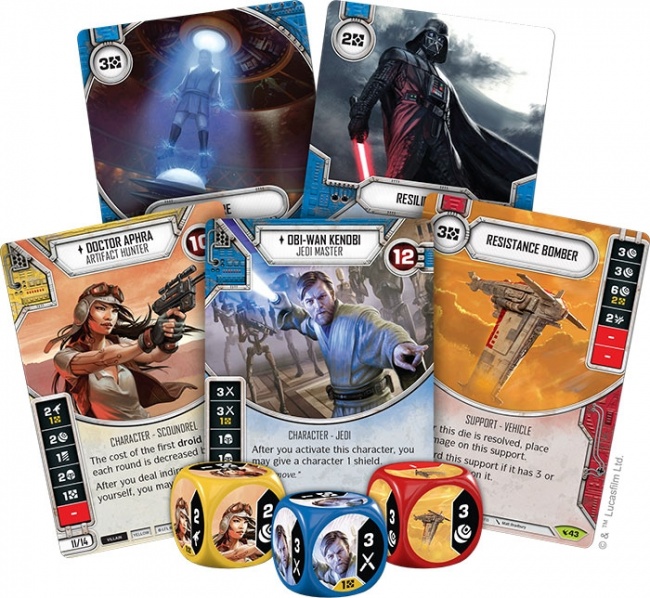 Changes are in store for Fantasy Flight Games' collectible card and dice game
Star Wars: Destiny
with the arrival of the
Legacies Booster Packs
,
Luke Skywalker Starter Set
, and
Boba Fett Starter Set.
The release date has not been announced, but the new titles are expected near the end of the year.
As described in Asmodee North America's release plans early this year (see "ANA Reveals Plans for 'Star Wars: Destiny'"), the new end-of-year Star Wars: Destiny product releases will include a pair of starter sets and a booster pack expansion.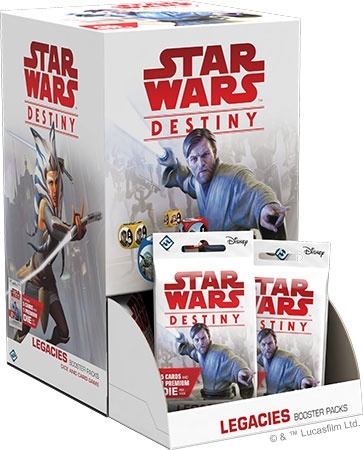 The new dice in this expansion sport a new dice symbol called "Indirect Damage," that allows players to assign damage to their own characters, often with a secondary effect or benefit. A new type of ability called a "Power Action" offers potent new game effects, but with a strict limit of only one use per round. Rounding out the new game mechanics are the new Plot cards, which players can add to their deck by spending their deck-building points. Plot cards offer players ways to influence the flow of the game without using a character.
Star Wars: Destiny Legacies Booster Packs each come with 5 game cards and 1 die. The total expansion includes 160 new cards for the game. Boosters are MSRP $2.99, and will be packaged in 36-count display boxes.
The two new starter sets both feature iconic characters from the original
Star Wars
trilogy: Luke Skywalker or Boba Fett. The
Luke Skywalker Starter Set
focuses on Luke during his younger days, along with his close ally Han Solo. The
Boba Fett Starter Set
comes with the notorious bounty hunter and a Veteran Stormtrooper to support him. Each
Starter Set
includes 24 cards and 9 dice, providing new players with everything they need to start playing. MSRP is $14.95 each.
See the gallery below for a sneak peak at some of the cards and dice included in the new expansion and starter sets.
Fantasy Flight recently released a two-player starter set as part of the second "Force Friday" marketing event (see "'Star Wars: Destiny Two-Player Game'"). The company will also soon release a series of storage binders designed to hold both cards and dice for the game (see "'Star Wars: Destiny' Dice Binders Bring Order to the Galaxy").