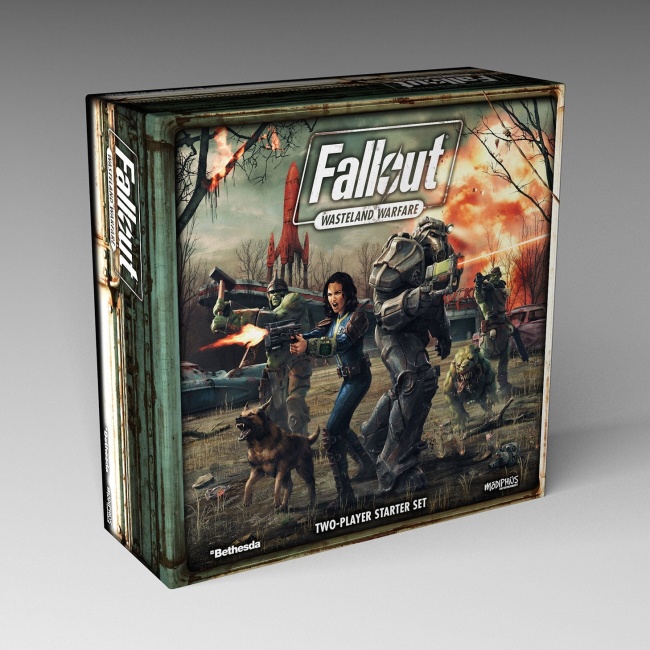 The first wave of releases for Modiphius Entertainment's
Fallout: Wasteland Warfare
tabletop miniatures game will release to retail in March. Modiphius has begun taking preorders for the new line, and in-store preorders will begin in November.
Announced earlier this year (see "Miniatures Game Based on 'Fallout' Video Game Series Announced"), Fallout: Wasteland Warfare lifts the characters and setting from Bethesda Softwork's Fallout video game series and transports them to the tabletop. Using highly-detailed 32mm sculpted miniatures, players compete in a series of missions to earn Nuka Cola caps, which can then be used to upgrade their factions and settlements. Upgrades grant access to improved gear and other advantages for future missions. The game is designed so it can be played solo, cooperatively, or head-to-head.
At launch, there will be five categories of products in the line: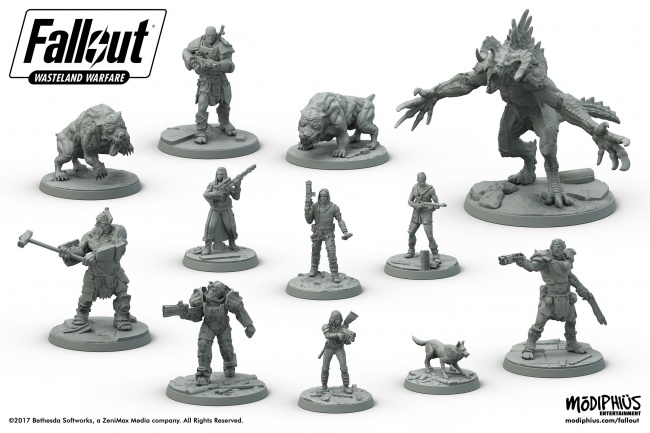 The
Fallout: Wasteland Warfare—Two Player Starter Set
is the core boxed set for the game, and includes everything needed to play. It comes with a dozen pre-assembled plastic miniatures on scenic bases, 10 custom dice, 320 counters, 2 range rulers, 124 cards, and a campaign book with 20 missions. This boxed set supports games with 1 or 2 players, and is intended for ages 14 and up. Games take 40 to 120 minutes, depending on the scenario. MSRP is $79.99.
Faction Core Sets offer a starting point for players that want to collect an army from a specific faction. Three Faction Core Sets will be offered in the initial launch, including the Brotherhood of Steel, Super Mutants, and Survivors factions. Each set has from 6 to 8 high quality plastic miniatures with scenic bases, supplied unpainted and with some assembly required. All of the cards required to use the figures are also included. MSRP is $52.99 per set.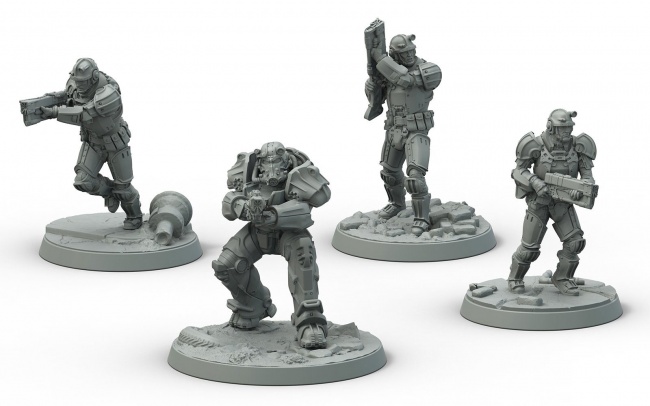 Smaller
Unit Expansions
feature three to five miniatures and the cards needed to use them in the game. Each of the three starting factions will be supported by a
Unit Expansion
. MSRP is $33.99 each.
Iconic characters from the video game will appear in Character Expansions, each with three miniatures on scenic bases and game cards. The first wave will include two sets for each faction, with an MSRP of $26.99 each.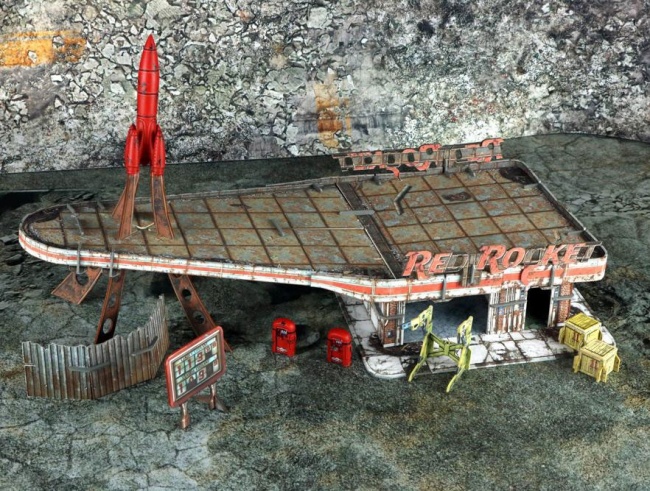 Additional
Fallout: Wasteland Warfare
releases will represent the battlefield with resin terrain pieces, robots, and wasteland creatures that the heroes might encounter during their battles. Game accessories like deluxe acrylic range rules, authentic Nuka Cola caps, and other items are also planned, with MSRPs ranging from $15.99 for the
Nuka Cola Caps Set
to $105.99 for the largest scenery pack. The line also features a pre-printed
Red Rocket Scenic Set
that comes with a clip-together building, resin rocket and gas pumps, and a 3-foot by 3-foot neoprene gaming mat produced in partnership with Battlesystems with an MSRP of $79.99.
See the gallery below for images of the miniatures for the new game.
Modiphius has started accepting direct pre-orders for the game and the first wave of expansions, with a promotional offer for an exclusive Nuka Cola Girl model and expansion. In-store pre-orders will be accepted starting in November for the retail launch planned for March. The launch will be supported by an Organize Play program, a demo program, and other retailer support efforts including an on-line retailer locator.
Modiphius is not the only company producing games based on the Fallout property. Fantasy Flight Games has announced Fallout: The Board Game, scheduled to release before the end of the year (see "FFG Readies 'Fallout: The Board Game'").