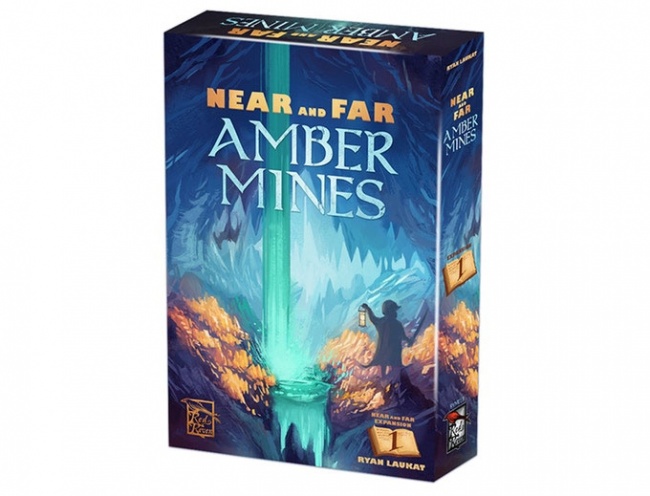 The first expansion set for Red Raven's storytelling board game
Near and Far
will be
Amber Mines
, scheduled to release in May.
Near and Far: Amber Mines exposes a bit of the mystery of the Arzians, revealing that their long-lost empire coveted amber above all else. Players now are challenged to delve into the depths of the mines where amber was extracted, facing new perils and opportunities.
Amber Mines includes four new "modules" that can be added to the base game, separately or together as players wish. The first module, "Amber Mines," invites players to explore the mines in search of treasure and, of course, amber. The "Magic" module adds powerful spell cards that players can acquire at the Mystic's Hut, but each card can be used only once before the player has to return to the mystic again. "General Store" gives players an opportunity to refill hearts and purchase artifacts at the new general store location. Finally, a new deck featuring updated threats makes up the "New Threats" module.
The expansion set was created by Near and Far designer Ryan Loukat, and requires the base game to play. It comes with a replacement mine/mystic hut tile, 43 mine cards, a spell track tile, 24 spell cards, a replacement general store tile, and 13 new threat cards. The expansion will be MSRP $24.99.
Red Raven is funding the production of Near and Far: Amber Mines through a Kickstarter campaign. The campaign has gathered $289,095 in pledged support from 5,076 backers (an average of $56.95 per backer) with 15 days remaining. Backer fulfillment is planned for April, with release of the retail version into the trade to follow about a month later.
Red Raven released the original Near and Far early this year (see "Red Raven Goes 'Near and Far'"). The company recently released another Laukat design, Klondike Rush (see "Red Raven Announces 'Klondike Rush'").