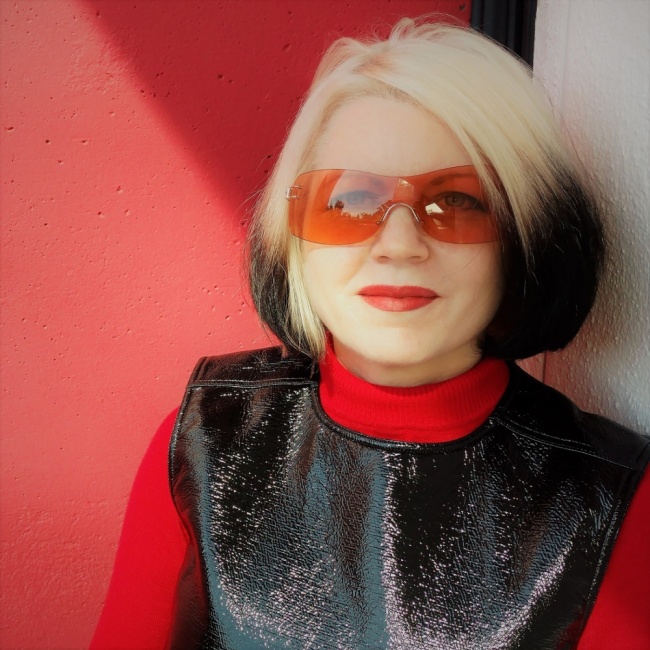 ICv2 caught up with IDW Senior Editor, Special Projects Shelly Bond this week to get her thoughts as the comics business reacts to the launch of Black Crown, her new creator-owned imprint (see "
Shelly Bond Joins IDW
"). The first title in the line, Kid Lobotomy, launched last week, and Black Crown Quarterly hits comic stores this Wednesday (see "Preview: '
Kid Lobotomy,' 'Punks,' 'Assassinistas' Covers
"). Bond's history at Vertigo, the creators she's assembled, and the unique shared universe concept drew us to get more from her on what she's doing with Black Crown, and she didn't disappoint.
You're just in the process of launching your first two Black Crown titles. How did the initial orders come in relative to what you were expecting?
Shelly Bond: Orders for the first wave of Black Crown books are very encouraging. Couldn't be happier about the sales figures. I've been in comics for over twenty years. People always say "it's a competitive marketplace." Name a time when it's not. It's always the right time to publish great stories.

Now that those first titles are shipping, what's the early response from the marketplace?
Bond: Feedback from retailers and fans has been fantastic. Our inaugural title, Kid Lobotomy, was in stores last Wednesday and the reviews have been incredible. I just came back from two weeks in the UK and New York Comic Con. I cold-called /dropped in at as many comics shops as I could to ask retailers what they think of the lineup and what I can do to help them sell through the titles in the months to come. It's the first time I actually got to walk the walk in a grassroots fashion. I learned a great deal just by asking questions and taking onboard their advice. Retailers are on the frontlines and it was great to get that kind of one-on-one input.

Why did you decide to use a narrative device to connect the titles in this imprint? What do you see as the "costs" and benefits of this approach?
Bond: I wanted Black Crown to have a philosophy and an identity. I wanted to present a body of work that was unprecedented so it could stand apart from mainstream imprints and others that straddle the line between publisher and printer. And the idea just made sense to me. Bring groups of talented, like-minded creative types together and they want to hang out and collaborate. Give them each a chunk of real estate that's on the same general street not unlike New York City's St. Mark's Place or Philadelphia's South Street. It's no different than joining an exclusive club. Come and go as you please. As long as we don't decide to change the secret password behind your back!

Who is the target customer for Black Crown (along variables like age, gender, what they read, where they shop)?
Bond: Black Crown is suggested for mature readers so the ideal target audience varies depending on the the taste of the reader. The books straddle the line between PG-13 and R rating, which I guess is considered a T+. We're selective about nudity and violence and only use them to the extent that it's story-specific or crucial to the character's arc. I've never been a fan of gratuitous anything. The books I'm curating are the kinds of books I want to read. And they all have a bit of punk swagger and a sense of humor. The latter is pretty key in today's social and political climate.
Readers of Assassinistas who like Gilbert Hernandez's art, Tini Howard's writing, and movies like Kill Bill would also like Kid Lobotomy and Punks Not Dead. There's a warped family dynamic in all the books that represents modern generational divides. I think this translates to the diverse audiences we see in the marketplace. The young adult readers who will be looking for something a bit more sophisticated as they finish books like Gene Yang's Boxers/Saints or Scott Pilgrim. Fans of Raina Telgemeier's Drama would easily gravitate towards a book like Assassinistas because of the honest way we represent modern family dynamics and gay relationships.

There are a lot of ways for talent to get comic stories to the marketplace these days – how has the competition for talent for Black Crown during this initial phase gone compared to how you expected?
Bond: My goal with Black Crown is to pair clever new voices with more seasoned talents and hope they inspire new executions. Of course, they may kill each other in the process.
Sometimes the editor's most challenging job isn't identifying common story tropes or tangents in the artwork: it's putting two discordant people in the ring and making sure the gloves stay on. It's a pretty exhilarating way of working. When it works, it creates art unlike any other.
There's a lot of activity in the creator-owned comics space right now – how do you think that's going to impact the market going forward?
Bond: There's always room for original, nuanced stories and dynamic storytelling. My hope is that readers see the Black Crown logo and know that each book that carries this imprimatur stands for a unique reading experience with quality art and design. Editors and curators have to know the rules to break them but they don't have to play by the rules.
Art by committee is overrated and produces mediocre, derivative works. Comics readers deserve much more than that. The difference between standard and "the standard" is the definite article. The goal is always to pay it forward and elevate the art form. Be nimble. Leave the naysayers in the dust.