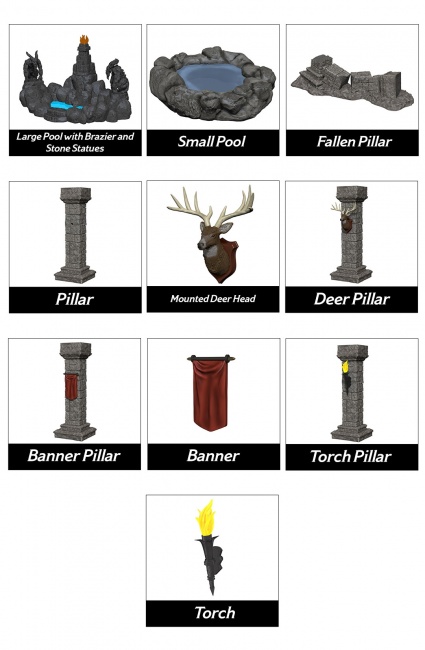 Scenery is key to a well-set scene, and WizKids is hoping that fans of miniatures and tabletop games will agree when it releases the
WizKids Miniatures: Fantasy Terrain – Painted Pools & Pillars Set 1
in March.
Designed to provide a setting for miniatures games and role playing games, the Fantasy Terrain series offers pre-painted scale miniatures of common terrain elements. As the name suggests, Painted Pools & Pillars Set 1 focuses on pools of water and a variety of pillars, along with a few other wall-mounted set pieces to round out a dungeon or castle hall.
The 24 sculpted pieces come fully assembled and fully painted, and many of them feature interchangeable pressure-fit accessories that allow players to customize the scene. This set includes 4 pillars, 1 fallen pillar, 3 small pools, and 1 large pool. Interchangeable accessories include 4 banners, 4 torches, 1 mounted deer head, 3 large pool rock pieces, 2 gargoyle statues, and 1 brazier. MSRP for the set will be $39.99.
March will also see the release of a new D&D Icons of the Realm pre-painted set (see "WizKids Brings Giants Back in 'Monster Menagerie III'"). It follows the launch of a new kid-centric line called Wardlings (see "WizKids Reveals 'Wardlings' Pre-Painted Minis").