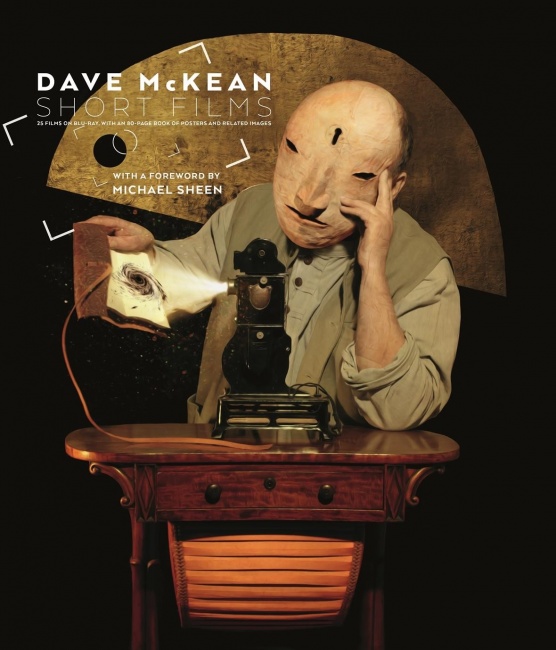 Dark Horse Comics will release a mixed media project from surreal artist Dave McKean in a release that includes a hardcover book and Blu-ray of his short films.
Dave McKean: Short Films will include a Blu-ray collection of 25 surreal short films, and an 80-page book including behind-the-scenes photos, posters, stills and drawings. The foreword is written by actor Michael Sheen. The hardcover book measures 9 1/2" x 11." Direct market release is June 27 and book trade release is July 10. MSRP is $24.99.
McKean is best known for his work illustrating Neil Gaiman projects, including Coraline, The Graveyard Book, Mr. Punch, and the Harvey Award-winning graphic novel Cages. He received an Eisner Award nomination for his graphic novel Black Dog: The Dreams of Paul Nash (see "The 2017 Eisner Award Nominees").
Blu-Ray includes the following short films and documentaries:
Week Before – 23mins – Insipired by the music of Django Reinhardt, story about two neighbors, God, and The Devil.
Neon – 27mins – This film is narrated by Velvet Underground founder John Cale and was first prize winner at Clermont-Ferrand (one of most prestigous short film festivals in the world).
Whack! – 14mins – Based on Mr. Punch graphic novel by Neil Gaiman and Dave McKean.
Displacements – 14mins – A combination of three short films featuring Michael Moorcock, Iain Sinclair, and Ed Dorn.
Dawn – 9mins – Filmed after McKeans's work on the movie Mirrormask, this short film is based on the Dark Horse Comics graphic novel Pictures that Tick, and was accepted into Clermont-Ferrand Festival
Iain Ballamy & Stian Carstensen – 3 1/2 minutes – A video short of jazz musicians Iain Ballamy & Stian Carstensen.
Sonnet No. 138 – 1min – An animated version of one of Shakespeare's sonnets as part of a large project to turn all of them into short films, the project was canceled and all that remains is this short film.
MTV-9/11 Reason – 1min – Reason was created to play on Sept. 11th 2002, a year after the terrorist attack in New York in 2001. McKean made this image as a illustration for a memorial book published by Dark Horse, and turned it into a film shortly after.
MTV-World Aids Day – 1min – McKean's short film for MTV on World Aids Day.
Visitors – 15mins – Created to be a video shown during live performances for the band Food, this film was shot at the Pacific coastline at Pebble Beach, Point Lobos, Big Sur, Pacific Grove, and at the Monterrey Bay Aquarium.
A short film for Adobe – 4mins – Short film to cover the making of an image, which was the cover of The Particle Tarot.
Signal to Noise – 4mins – Based of his own Graphic Novel Signal to Noise.
RAINDANCE 7 – 1min – Trailer/Advert for the Raindance Film Festival.
KODAK: TAKE PICTURES FURTHER – 40Mins – Commissioned by Kodak to launch a new film stock, and consisted of a lavish book, featuring several photographer/ artists, and accompanying 'making of' films for each contributor.
BUCKETHEAD -THE BALLAD OF BUCKETHEAD – 4.5 mins – Daves ode to the musician Buckethead
Izzy – 3.5 Mins – Film dedicated to opera singer Izzy, featured on MTV's Classical Channel.
Lowcraft – 1 minute – A music video made for the band Lowcraft, inspired by the artist Lorenzo Mattotti.
The Old Monkey – 4 minutes – A performance by McKean of a song he wrote for jazz composer Iain Ballamy and poet Matthew Sweeney.
9 Lives: Sheepdip, Johnson and Dupree; 9 Lives: The Cathedral of Trees – 4 minutes – Two short films from a show by McKean called Nine Lives.