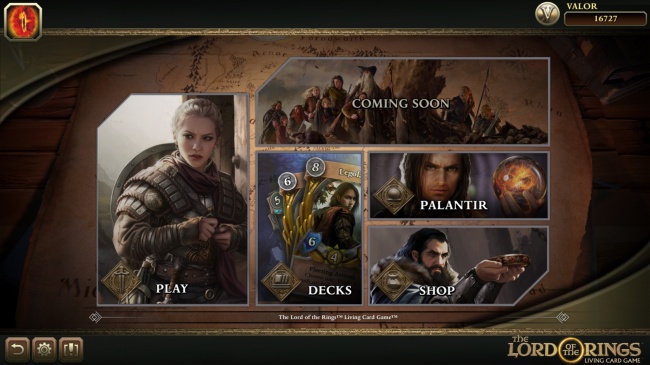 Fantasy Flight Interactive has announced plans to produce a digital version of Fantasy Flight Games'
Living Card Game
The Lord of the Rings: The Card Game
on the Steam platform for PC next year as its first release.
The digital adaptation will use the same mechanics and cards as the tabletop version, with players forming teams of heroes and attempting to complete adventures set in the iconic fantasy world created by J.R.R. Tolkien. To play, players must construct a digital "deck" of cards depicting allies, events, and equipment cards that they can use during the game.
In contrast to other online card games which require players to purchase or earn random cards for their collection, Fantasy Flight's The Lord of the Rings Living Card Game uses the same fixed card set format as its real-world counterpart, designed to eliminate the randomness common to collectible games that is a result of the random booster pack format.
The initial release will only offer solitaire play, and will launch as part of Steam's Early Access program. Later in the year, the full free-to-play version will follow on Steam, and will be expanded with support for cooperative two-player play.
This game will be different from Fantasy Flight's other digital offerings, which are designed as enhancements for the company's tabletop games Mansions of Madness and Star Wars: Imperial Assault (see "Uncover the Secrets of the 'Sanctum of Twilight'" and "FFG Unveils New App for 'Star Wars: Imperial Assault'"). Those apps both require that the players use the physical game, with the app guiding play and acting as the "overlord" player.
The new Lord of the Rings game will instead be a stand-alone experience that does not require or interact with the regular card game. In this way, Fantasy Flight is joining a growing trend in the industry for digital versions of popular hobby games (see "'Catan' Adventure Game, 'Munchkin' Digital, 'Pokemon Go' Company Plans 'Harry Potter' AR Game, Much More!").
Fantasy Flight Games' parent company Asmodee launched Fantasy Flight Interactive earlier this year (see "Asmodee, Fantasy Flight Launch Fantasy Flight Interactive").
Click the Gallery below for screen shots from the game!