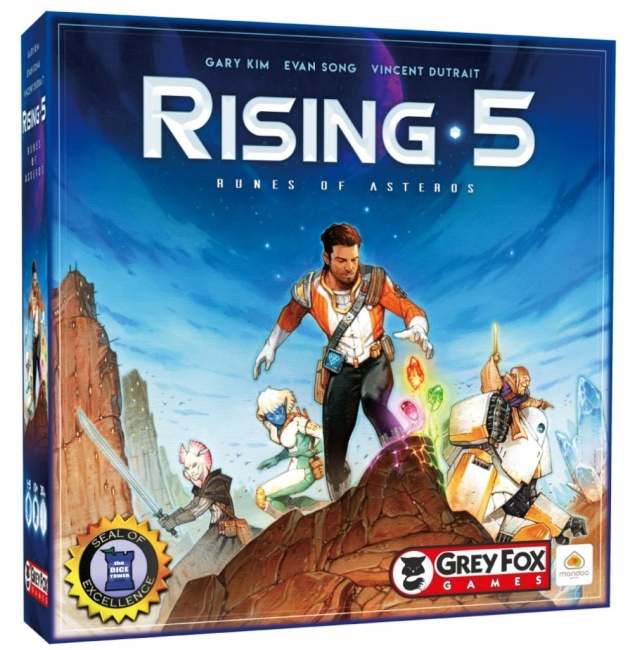 Grey Fox Games has joined the app-driven board game movement (see "
Tabletop Game Companion Apps Prosper
") with the announcement of
Rising 5: Runes of Asteros
, a cooperative game releasing in March.
In Rising 5, a team of five agents must save a futuristic world by deciphering the secret behind the four divine Runes and the corrupting influence of Silk so they can once again seal off the horrors of the Aether behind the ancient Rune Gate. They must search the world of Asteros, identify and recover the four Runes, and deliver them to the Rune Gate altars, all while evading or defeating the monsters that seek to stop them.
Rising 5: Runes of Asteros was created by Gary Kim (Tales & Games: The Hare & the Tortoise, Abraca… what?) and Evan Song (Slide Blast) and features artwork by Vincent Dutrait (Lewis & Clark, Broom Service). Game play is supported by a free smartphone app that will be available in both the Apple and Google stores. It is intended for 1 to 5 players, ages 10 and up, and plays in about half an hour.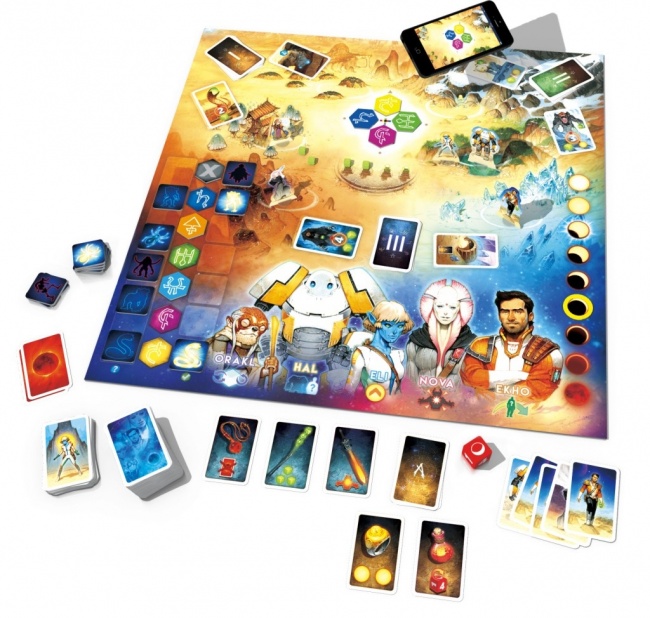 The game comes with 1 game board, 5 stand-up character silhouettes, 94 cards, 16 tokens, 7 rune tiles, 4 wooden cubes, and 1 custom die. MSRP is $44.99.
In January, Grey Fox will release a new expansion for its Deception: Murder in Hong Kong game (see "A New Layer of Duplicity Descends in 'Deception: Undercover Allies'").
Click Gallery below for full-size images of board and box!