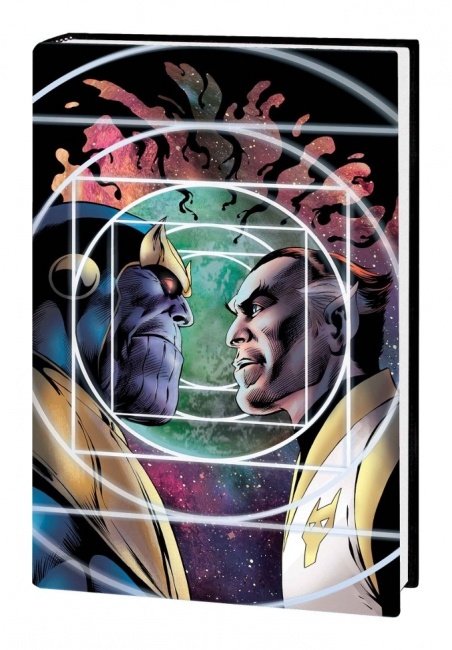 On the eve of Marvel character Thanos' star turn in
Avengers: Infinity War
(which releases next May, see
Best in Shows—Q2 2017
"), Thanos co-creator Jim Starlin will not take on new work from the publisher, he said in a Facebook post.
Starlin, who co-created galactic villain Thanos with Mike Friedrich in 1973, said in the post that the reason for his departure was a dispute with Marvel Executive Editor Tom Brevoort, who Starlin alleges approved a plot for the Thanos ongoing series very similar to the Thanos OGN series.
"What I objected to and what will… keep me from doing any further work for Marvel Editorial was Tom Brevoort approving a plot for the current on-going series, which was pretty much the same as the Thanos story arc in the graphic novel trilogy Alan Davis and I have been working on for Tom for close to the past year," Starlin wrote. "He had 200 pages of script and 100 pages of pencils on this project when he gave the green light to a strikingly similar plot. The on-going will be in print before the graphic novel trilogy."
Marvel will launch Starlin's latest OGN trilogy with Thanos: The Infinity Siblings, written by Starlin with Alan Davis pencils and a Starlin cover, in April (see "'Infinity War' Publishing Build-Up").
Starlin made clear in his post that the dispute was specifically with Marvel Editorial.. "And yes, Marvel Entertainment has treated me very well and generously," he wrote. "Them I like."
Although Starlin's current output is nowhere near as commercially important, he's strongly associated with the character at the center of the Marvel Cinematic Universe next year, and he's the third significant creator to leave Marvel over the past two months, after Brian Michael Bendis, who went to DC (see "Marvel's Top Creator Signs with DC"), and Mark Millar, who took his Kick-Ass universe to Image (see "Millar Moves the Rest of Kick-Ass Universe to Image").