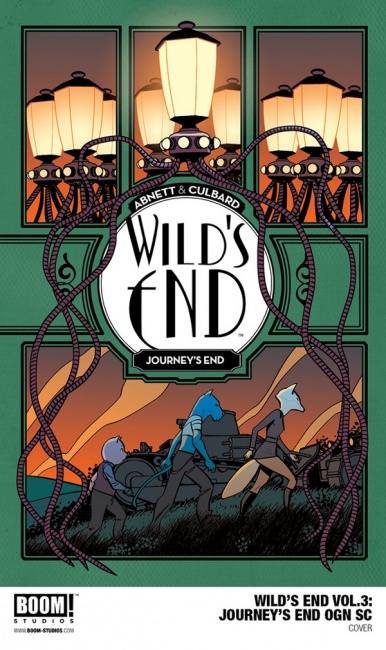 BOOM! Studios has announced the final installment of the
Wild's End
trilogy. Written by Dan Abnett (
Guardians of the Galaxy, Aquaman Rebirth
) and illustrated by I.N.J. Culbard (
Doctor Who
), the
Wild's End: Journey's End
OGN will be in stores in June.
The series appeals to fans of classic science fiction and debuted to largely positive reviews. Inspired by H.G. Wells'
War of the Worlds
,
Wild's End
is set during the 1930s in a rural English community populated by anthropomorphic animals. The first two volumes,
Wild's End Volume 1: First Light
and
Wild's End Volume 2: The Enemy Within
, were each released originally as 6-issue miniseries. In the first, Lower Crowchurch is invaded by aliens, and the second volume is about a military coverup in the aftermath of the invasion.
Wild's End: Journey's End
finds the world overrun by the alien invaders as the citizens of Lower Crowchurch team up with those they once feared to try to turn the tide.
"Both Ian and I have loved working on
Wild's End
... and we've been delighted by the immensely positive response from readers and critics to the first two volumes," said Abnett. "When BOOM! Studios asked for a third volume, and offered us to do it in the 'long form' of a graphic novel, we jumped at the chance... It's not necessarily the end of
Wild's End,
but this book represents a dramatic closure to the story arc and forms the dynamic third part of the trilogy."