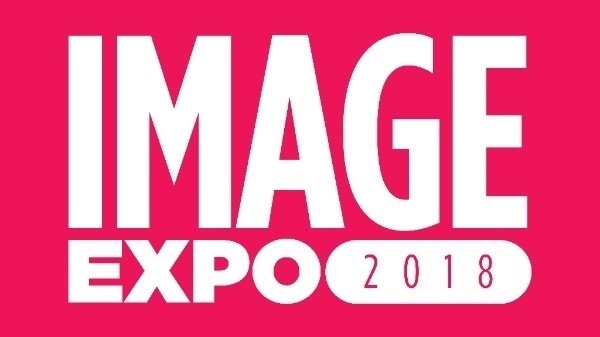 Image Comics held its annual expo today in Portland, OR, and announced new creator owned series for 2018:
Mark Millar's forthcoming "Millarworld" titles tied to the Netflix deal (see "
Mark Millar's 'Millarworld' Acquired by Netflix
"), including the previously announced
The Magic Order
will be published by Image Comics (see "
Mark Millar Brings 'Order' to Netflix
"). The series will launch this summer.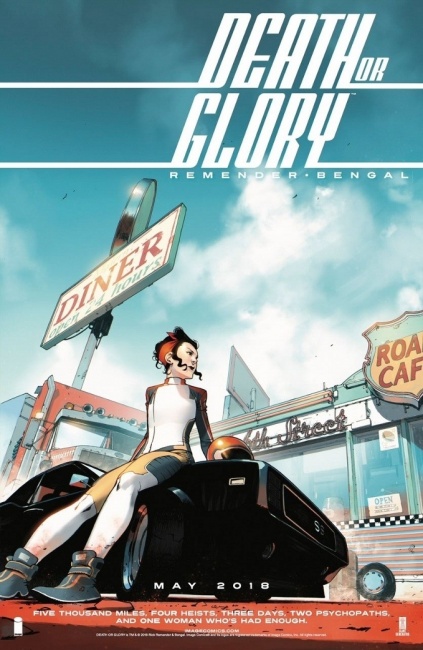 Rick Remender (
Seven to Eternity, Deadly Class
) and French comic artist Bengal will partner on
Death or Glory
. A young woman raised free in a convoy, off the grid, with the last truckers fighting automation, is forced to pull of four heists in three days to get the money to pay for her dying Father's surgery. The series launches in May.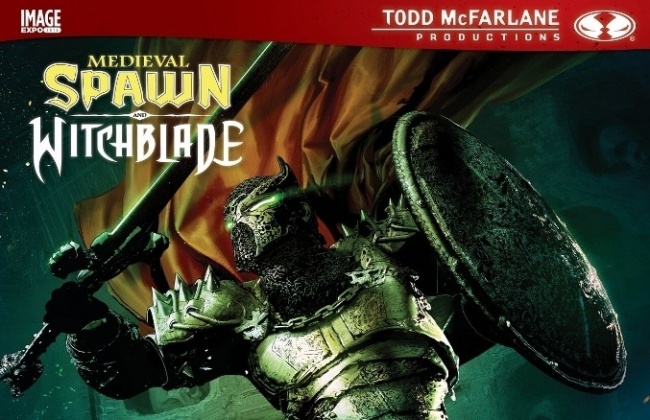 Todd McFarlane announced several new projects, including a
Medieval Spawn & Witchblade
crossover miniseries. The series will be written by Brian Holguin, with art by Brian Haberli and will feature a special augmented reality cover for $2.99. Launch is planned for May.
McFarlane is partnering with Will Robson for a 4-part miniseries:
Spawn Kills Everyone 2
. Spawn gives birth to hundreds of small Spawn babies, who take their father's "kill list" and try to complete it. Release date was not announced.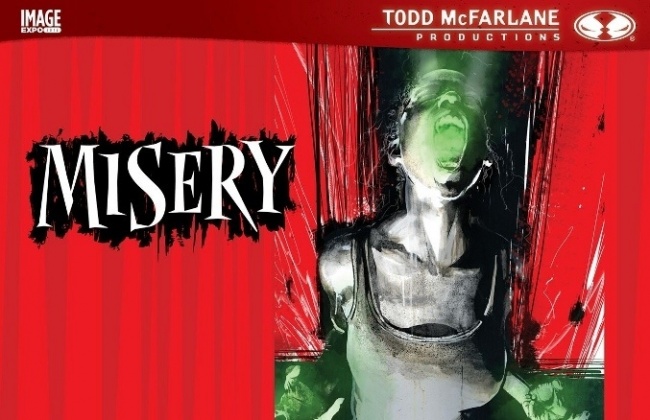 McFarlane will also launch a new month series
Misery,
and a new
Sam and Twitch True Detectives
8-part miniseries that will launch shortly after the announcement of the new
Spawn
film.
Robert Kirkman and Lorenzo De Felici's series
Oblivion Song
will launch on March 7.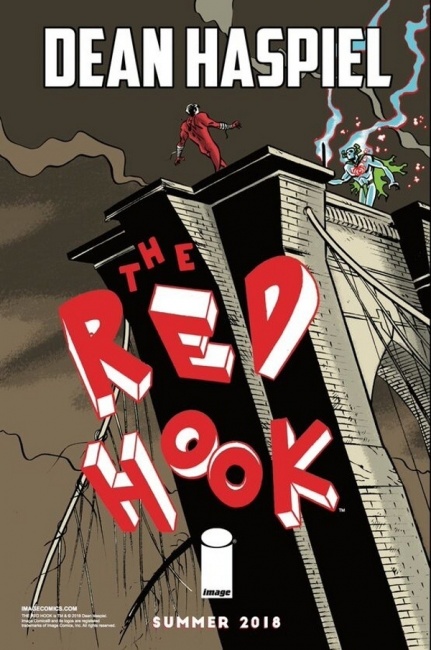 Dean Haspiel's
The Red Hook, Vol 1: New Brooklyn
will finally see print in June. Previously published on the LINE WEBTOON online platform. The Red Hook is a thief who is given the Omni-Fist of Altruism, and transformed (against his will) into a superhero.
Son of Hitler OGN
is the work of Anthony Del Col (
Assassin's Creed, Kill Shakespeare
), Jeff Mccomsey (
Fubar
), and Geoff Moore. The graphic novel tells the story of Adolf Hitler's secret child, and how he was the key to ending the war. Release is planned for May.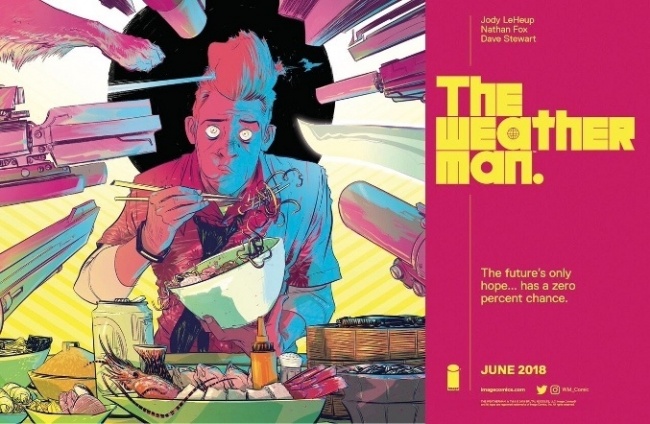 Jody LeHeup (
Shirtless Bear-Fighter
), and Nathan Fox (
DMZ
) partner on
The Weatherman
, a sci-fi story following an amnesiac weatherman who lives on Mars. His hidden past comes back to haunt him, well, accuse him really, of orchestrating the worst terrorist attack in human history, that almost destroyed Earth. The series will launch in June.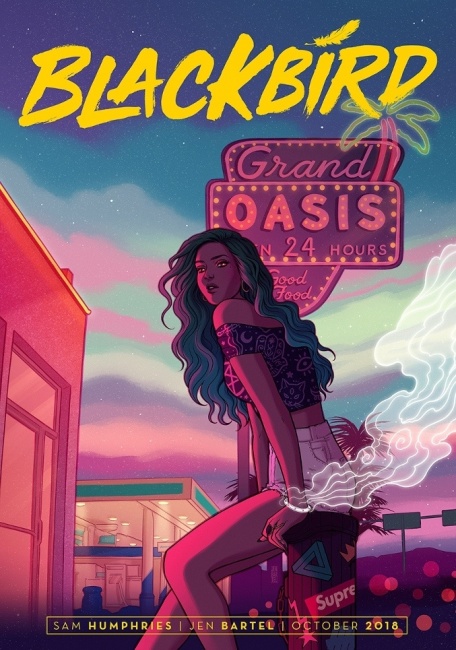 Sam Humphries (
Nightwing, Green Lantern
) and Jen Bartel team up for
Blackbird,
a modern fantasy story set in Los Angeles where a young woman discovers the hidden world of magic masters. The series will launch in October.
Michel Fiffe will script and draw three new issues of Rob Liefeld's
Bloodstrike.
The issues will include two back-up stories by Chuck Forsman and Paul Maybury. The launch date
Bloodstrike: Brutalists
was not announced.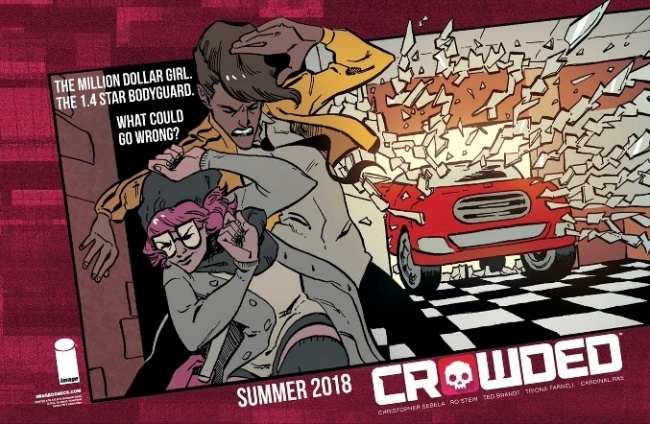 Christopher Sebela, Ted Brandt, Ro Stein & Triona Farrell will partner for
Crowded,
a send-up of today's app economy and the reach of online grudges. In the series, a platform called Reapr allows anyone to crowdfund assassination attempts. Release is planned for summer.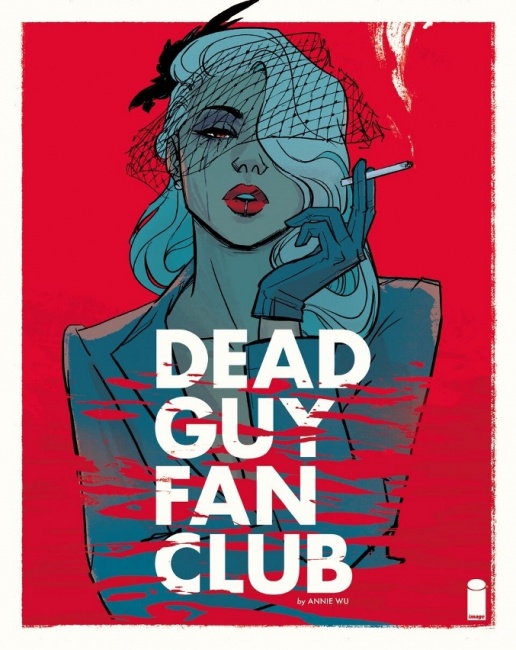 Annie Wu will write and illustrate
Dead Guy Fan Club,
a story that sees the founders of a rock star's fan club reunite years later to solve the suspicious death of their idol. The series will launch in Fall 2018.
Gerry Duggan (
Deadpool
) & John McCrea (
Hitman
) partner for
Dead Rabbit
. Martin Dobbs is a hot-tempered former mercenary who is forced out of retirement with violent (and funny) results. Release is planned for summer.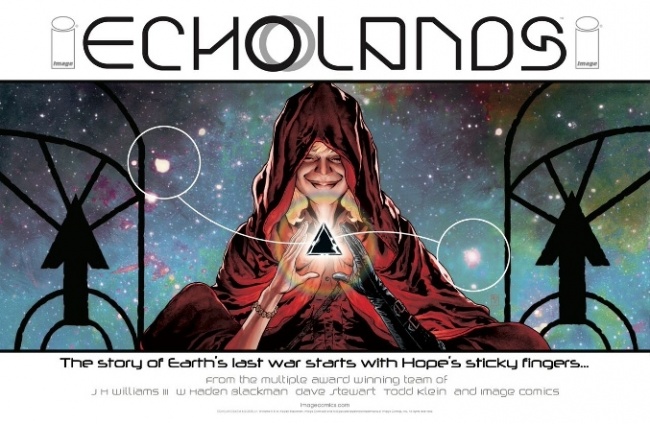 J.H. Williams (
Sandman: Overture, Batwoman
) and Haden Blackman (
Elektra, Batwoman
) will team on
Echolands
, a mythic genre mash-up about the start of the last war on Earth. The launch date was not announced.
Rob Guillory (
Chew
) will write and draw
Farmhand,
a nightmarish story where the protagonist takes over his family's fields, but ghastly things start to grow. The series will launch in July.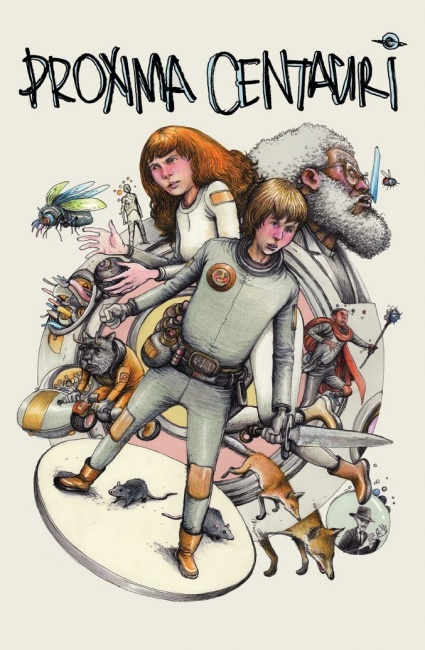 Farel Dalrymple will write and draw the new 6-issue miniseries
Proxima Centauri.
A group of adventurers try to find an escape from the spectral dimension space zone so they can return to Earth. The series will launch in June.
Christopher Sebela and Joshua Hixon partner on
Shanghai Red,
a thriller spanning the globe from Shanghai to Portland, Oregon. The series launches in June.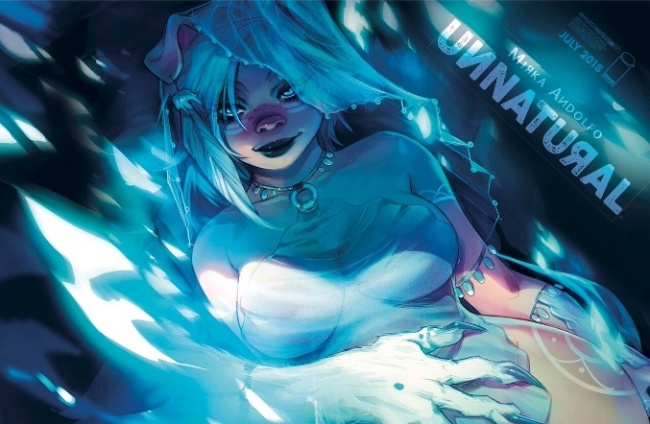 Mirka Andolfo's Italian comic
Contro Natura
will be translated into English and released by Image Comics as
Unnatural.
The fantasy erotica title will launch in July.
Matthew Rosenberg & Tyler Boss, the team behind
4 Kids Walk into a Bank
will launch a new title at image
What's the Furthest Place from Here?
It follows a gang of young punks as they traverse the wasteland of America looking for their youngest member. The series launches in November.
Click on the Gallery below to see full sized and additional images.