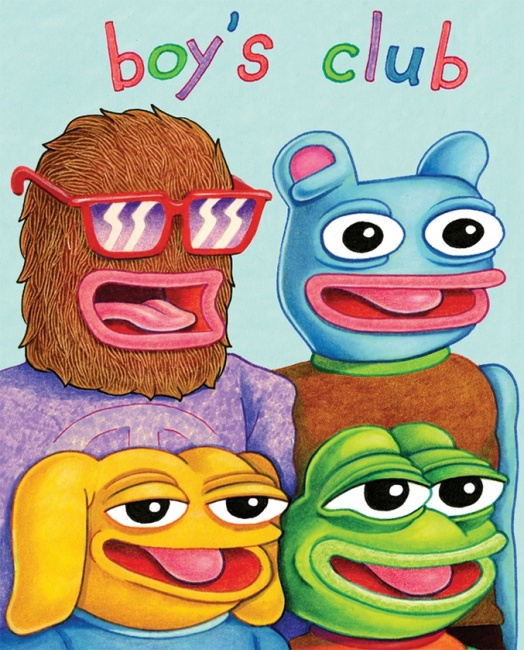 In his ongoing campaign to reclaim his creation Pepe the Frog, Matt Furie is suing InfoWars for copyright infringement. The lawsuit pertains to the use of Pepe on a MAGA (Make America Great Again) poster featuring the anthropomorphic creation alongside InfoWars founder Alex Jones, President Donald Trump, Milo Yiannopoulos, Kellyanne Conway, Matt Drudge, Roger Stone, and other individuals embraced by the alt-right. The poster is allegedly being sold in the online store for InfoWars.
While Furie has licensed the character for card games and stuffed toys, the lawsuit makes it clear that he did not authorize the use of Pepe in the poster. Jones appears set to defend the use even though InfoWars did not make the poster, arguing that it is protected political speech, according to The Washington Post. Jones claims that InfoWars has sold about 1,000 of the posters, which were illustrated by Jon Allen.
Pepe is a character in Furie's Boys Club comics. The laid back character was widely used in mostly innocuous internet memes before being coopted as a symbol of alt-right racists. The Anti-Defamation League subsequently labeled Pepe a hate symbol (see "Fantagraphics, Creator Condemn Use of Pepe the Frog"), and Furie has been working with the league to reclaim and defend his intellectual property.
Furie killed off Pepe in Fantagraphics' 2017 Free Comic Book Day release (see "The Death of Pepe the Frog"), but he has since mounted a successful Kickstarter campaign for a new comic featuring the character.