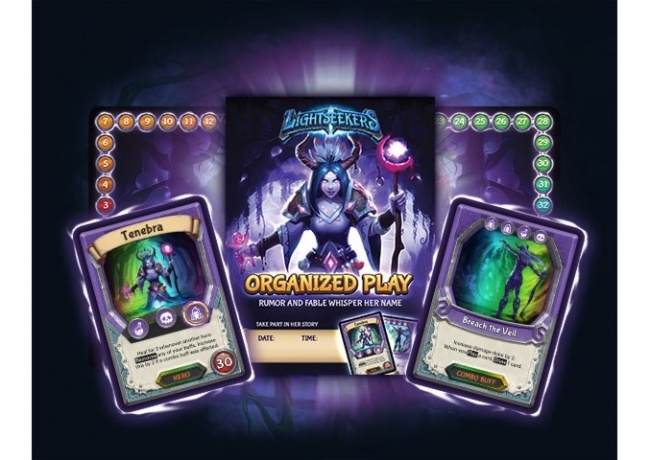 The augmented reality trading card game
Lightseekers
will soon be supported by an organized play program, and publisher PlayFusion is offering participating stores their first
Organized Play Kit
.
Released in 2017 (see "New TCG 'Lightseekers'"), the Lightseekers trading card game uses AR technology to enhance gameplay through interaction with a companion smartphone mobile game and a line of smart action figures. Coinciding with the release of the game's first expansion set, the company is launching a new organized play program designed for the hobby market (see "PlayFusion Plans 'Lightseekers' Support for Hobby Stores"). The OP program will center around a series of Organized Play Kits, with a different kit releasing on the 15th of each month.
Each Organized Play Kit will include materials that are intended to support weekly in-store play events over the course of four weeks, with 40 exclusive foil promo cards, 4 exclusive foil event winner cards, 1 playmat, and a poster to help stores advertise the events. Organized Play Kits will only be made available to brick-and-mortar stores that agree to abide by the program's restrictions, which includes a prohibition against selling the promo cards. Each participating store is limited to only two Organized Play Kits each month.
PlayFusion will also support the OP program with tournament software that stores can use to organize their events. The software is designed to interact directly with the Lightseekers companion mobile app.