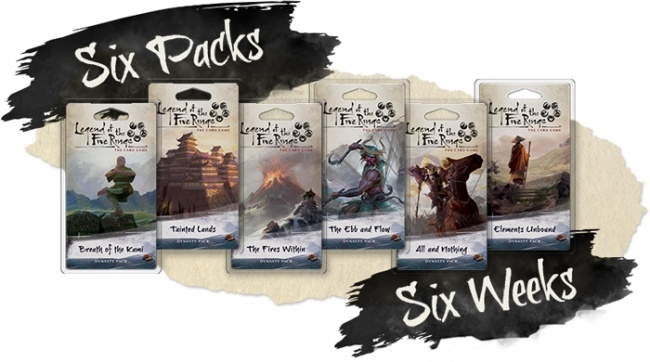 Fantasy Flight Games has unveiled the power of the natural world for the
Elemental Cycle,
the next releases for its
Legend of the Five Rings
Living Card Game
in Q3.
Following the conclusion of the Imperial Cycle (see "Entire 'Imperial Cycle' for L5R' Revealed"), the Great Clans of Rokugan will face a new threat, a darkness that is preceded by elemental unrest. The five elemental rings – Air, Earth, Fire, Water, Void – have been thrown out of balance, and the first five Dynasty Packs will each correspond to a different element and how each clan relates to it. The sixth pack will tie the cycle together. Various ancient creatures and beasts associated with each clan will return.
The titles for the six
Dynasty Packs
are:
Breath of the Kami
Tainted Lands
The Fires Within
The Ebb and Flow
All and Nothing
Elements Unbound
Each of the six packs comes with three copies of each of 20 different cards. MSRP is $14.95 each.