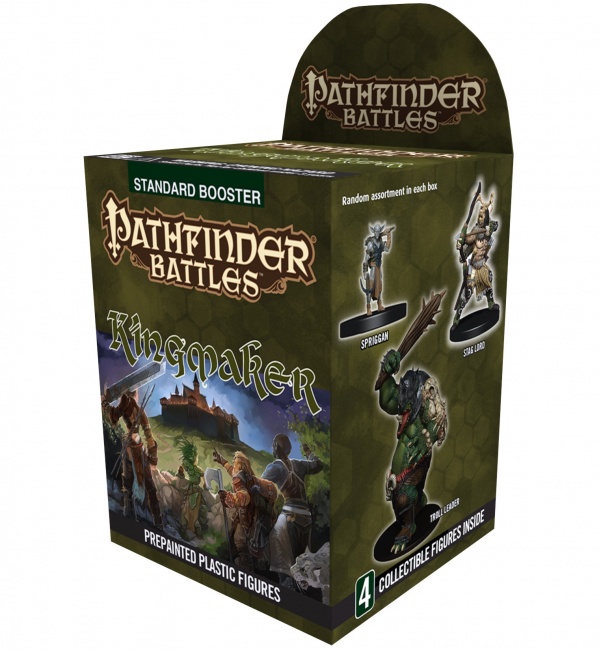 The October wave of licensed
Pathfinder Battles
pre-painted miniatures has been announced by WizKids. The new set will be called
Pathfinder Battles: Kingmaker
, and the company is offering a two-figure case incentive set to go with it.
The 44-figure Kingmaker series will follow the same trend as the Jungle of Despair set releasing in May (see "'Pathfinder Battles: Jungle of Despair'"), with a focus on high-utility figures that can be used for a wide variety of fantasy role playing campaigns, including a colony of flying bats, a werewolf, an Oni Mage, a deadly Soul Gorger, and an Elf Inquisitor. The set also features "dungeon dressing" figures in some random packs.
Kingmaker figures will be packaged in four-figure boosters. Each booster comes with one large figure and three medium or small figures, packed randomly. Boosters are available in Standard Bricks with eight boosters each, for a total of 32 figures per brick. MSRP is $15.99 per booster (or $127.92 per brick).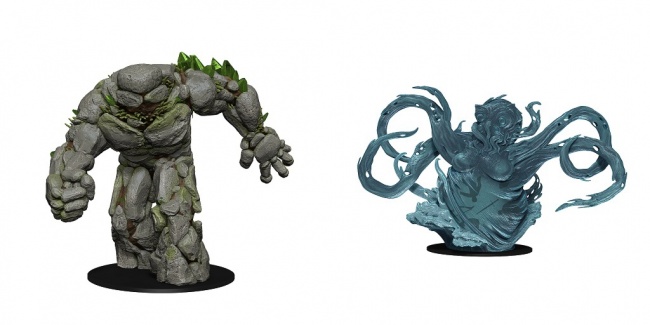 As an incentive for pre-orders, WizKids is offering the
Pathfinder Battles: Kingmaker Case Incentive
promo set. Each set features two large models representing a "huge" earth elemental and a "huge" water elemental, packaged together in a single box. One
Case Incentive
set can be ordered for each full case of four
Standard Bricks
. MSRP for the
Case Incentive
is $49.99.
Click the gallery below for images of figures from the Kingmaker set.
Unpainted Pathfinders Battles Deep Cuts figures are also coming soon, with waves planned for May and August (see "Elementals, Gnomes, Wizarding Room, Witches Den" and "Barbarians, Wizards, Rogues, and an Iron Maiden").