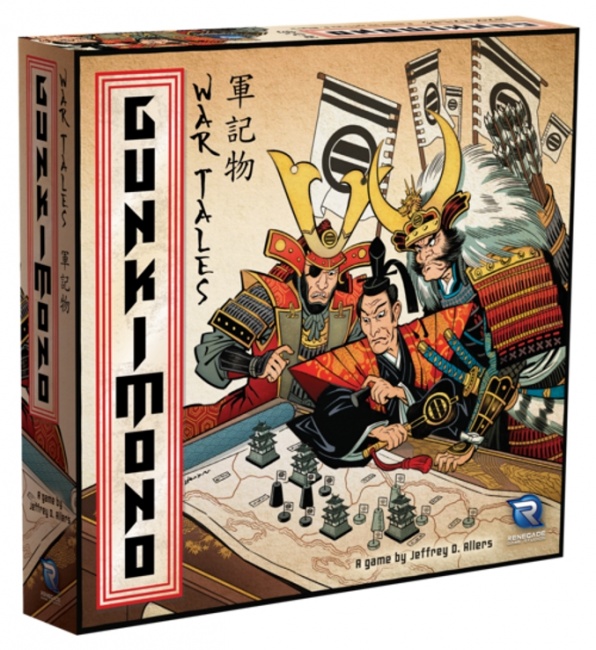 Renegade Game Studios will release
Gunkimono,
a war game of honor and victory, in August. The game will premiere at Gen Con.
Designed by Jeffrey Allers (New Amsterdam, Citrus), Gunkimono is a tile-placement and area control game set in feudal Japan. Players are daimyo attempting to marshal their troops amidst a backdrop of endless war and backstabbing, to build their strongholds and plot military expansion. New squads of troops bring immediate victory points, but it may be wiser to hang back, and save up for the stronghold. Everyone's moves affect other players, with the goal being to raise the largest force and lead them to victory.
The box contains a game board, 25 small army tiles (1 troop each) – (infantry, samurai, cavalry, spearman, archer), 60 large army tiles (2 troops each), 15 war banner tiles (dragon, crane, lotus), 10 strongholds, 5 daimyo figures, 5 daimyo tiles, 25 honor markers, 1 start player sword, 1 end-of-game tile, 1 cover tile, and a rulebook. The game is for 2 – 5 players, ages 10 and up, and plays in 45 – 60 minutes. MSRP is $40.00.
Renegade is currently running a Kickstarter campaign to release a new role playing game this summer (see "Bathe in the Brilliance of 'Overlight' The Kaleidoscopic Fantasy RPG"). The publisher also had two games named to the Mensa Select Mind Games winner's list this week (see "Mensa Select Mind Games Winners 2018").