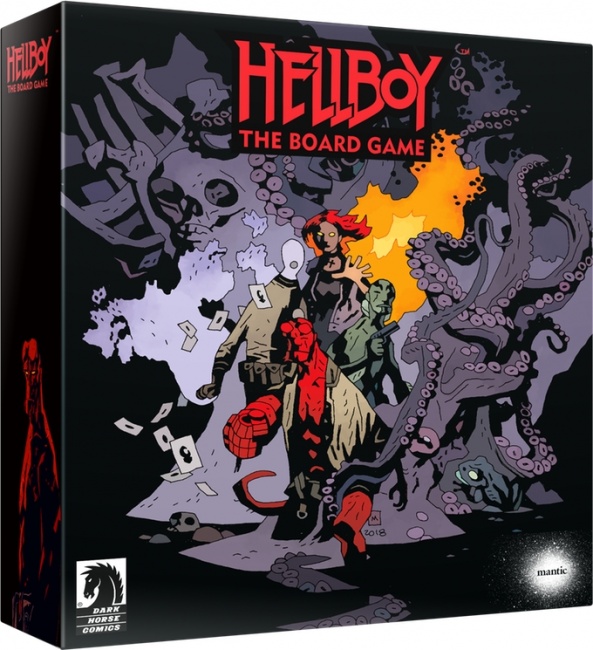 Mantic Games will release
Hellboy: The Board Game
in early 2019. The game is being funded with a Kickstarter that has topped $1 million, and attracted nearly 9,000 backers in its first 48 hours.
"Retailers are hugely important to us, that is why I have focused on providing a retail pledge as part of the
Hellboy
Kickstarter," Mantic Games Global Trade Marketing Manager Martin Thirlwell told ICv2 in an email. "This gives retailers access to the full Kickstarter range (even KS exclusives) if they chose to support the project. On top of that, as part of the retail launch, there will be a range of retail exclusive products that will not be available during the Kickstarter campaign to keep it fresh for backers and retailers alike. This is much like we have continued to do for
The Walking Dead: All Out War
(which is still selling well) and will be hitting the all new non-Kickstarted wave 5 –
The Hunters
in Summer 2018."
The game is designed by James Hewitt (
Horus Heresy
) who has helped develop
Dreadball, Necromunda 2017, Blood Bowl 2016
and
Warhammer Quest: Silver Tower.
Hellboy
is a cooperative experience where players face off against some of the comic's most famous foes. Players take control of BRPD members: Hellboy, Abe Sapien, Liz Sherman and Johann Kraus, before exploring haunted locations and uncovering ancient artifacts.
The box will include 4 hero miniatures, 3 bosses, 18 minions, game tiles, tokens, an encounter deck, a requisition deck, agent cards, case file deck, a deck of doom, action cubes, an enemy deck, a HQ board, dice, and rules. Mantic told ICv2 the MSRP will be around $90 - $100. Retail release will happen just after the Kickstarter games have been shipped.
The Kickstarter offers a retailer pledge which requires a £100 (approx. $140) downpayment and verification with the local Mantic Games trade representative. Retailer can then order the number of copies appropriate for their store, as well as access to Kickstarter exclusive expansions (
Conqueror Worm Expansion
and
BPRD Archives Expansion
).
Mantic and Dark Horse announced the licensing deal in January (see "
'Hellboy' Gets Board Game Treatment
"). The planned release of the game in early 2019 will line up well with the debut of the rebooted movie, which stars David Harbour, Milla Jovovich, and Ian McShane (see "
Best in Shows--Q1 2019
").