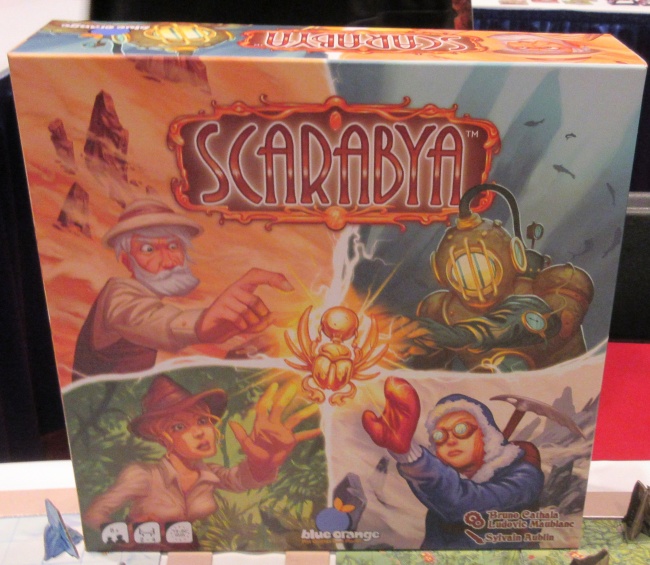 At ACD Games Day, Blue Orange Games was showing off its upcoming releases for Gen Con, including
Scarabya
and
Blue Lagoon
.
Created by the popular designer team of Bruno Cathala and Ludovic Maublanc (Cyclades, Mr. Jack), Scarabya challenges players to use Tetris-like shapes to surround and capture scarab beetles by trapping them inside an area no larger than four spaces. The player who can capture the most valuable collection of scarabs after using all of their pieces wins the game.
Scarabya was designed for 2 to 4 players, ages 8 and up, and plays in about half an hour. MSRP is $29.99.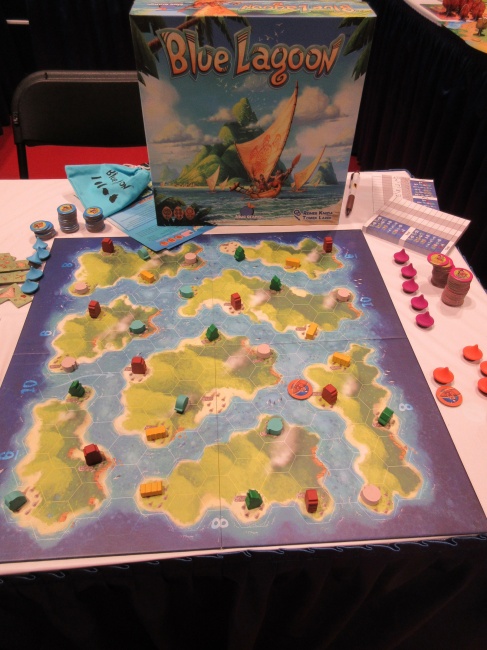 The prolific Dr. Reiner Knizia is the creator of
Blue Lagoon
, an area-control style game set among the islands of the Pacific Ocean. In the first of two rounds, players begin by expanding their population across the sea, trying to reach the islands so they can gather resources and establish villages. Then all pieces except villages are removed, and in the second round the players start from their villages and expand their territory again. Points are awarded for connecting islands together, gathering resources, and having majorities on islands.
Blue Lagoon can be played by 2 to 4 players and is recommended for ages 8 and up. Games take about 45 minutes. MSRP is $29.99.
The two new games will join the previously announced Kingdomino: Age of Giants expansion for their Gen Con premier (see "'Kingdomino' Achieves Greater Heights").
Click the gallery below for pictures of the two games from the ACD Games Day.