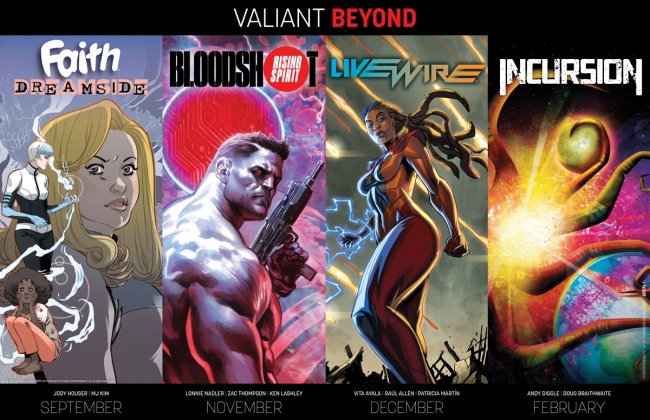 Valiant Entertainment revealed details for their Beyond initiative -- the series that will round out the publisher's 2018 lineup and kick off 2019.
Bloodshot will get a new ongoing focused on the origin of the character.
Bloodshot: Rising Spirit
is written by Lonnie Nadler and Zac Thomspon (
The Dregs, Cable
) with art by Ken Lashley (
Black Panther
). Felipe Massafera covers the first issue, which will be in stores in November. The series is set during the early days of Project Rising Spirit and Bloodshot's early training.
In September, Faith "Zephry" Hebert will face a foe that exists only in nightmares in
Faith: Dreamside
. The miniseries is from writer Jody Houser (
Faith
,
Star Wars: Thrawn
) and artist M.J. Kim (
Faith's Winter Wonderland Special
#1). The first issue is covered by Marguerite Sauvage (
DC Comics Bombshells
).
Technology-controlling Livewire is front and center in her own miniseries from writer Vita Ayala (
Supergirl
) and artists Raul Allen and Patricia Martin (
Secret Weapons
). In the wake of the worst disaster the country has ever faced -- one she caused -- Livewire must decide what kind of hero she is (or isn't).
Livewire
#1, which has a cover by Khary Randolph (
Teen Titans
), will be out in December.
Incursion
, an event miniseries from Andy Diggle (
Shadowman
) and artist Doug Braithwaite (
X-O Manowar
), will put the Valiant Universe in a multidimensional battle against unearthly terrors in February 2019.
All of the series spin out of the events of
Harbinger Wars 2
crossover, which recently kicked off and will wind up in September (see "
'Harbinger Wars 2' Takes Shape
").
Click on the Gallery for cover images.