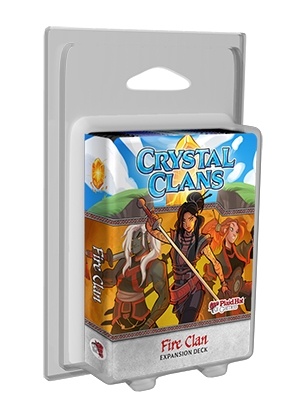 This winter, four more clan options for Plaid Hat Games'
Crystal Clans
will be available thanks to four new clan expansion decks: The
Fire Clan, Light Clan, Moon Clan,
and the
Gem Clan.
The Fire Clan Expansion Deck features the consuming power of fire, reducing enemies to ash, but care must be taken to keep the fires from burning out.
The Light Clan Expansion Deck shines a divine light into the battle, giving players the power to establish divine laws, then force others to obey them.
The Gem Clan Expansion Deck draws from the crystals themselves, gaining power as more crystals are collected, by you or your opponent.
The Moon Clan Expansion Deck is designed to demoralize opponents by raiding their home zone and plundering their resources.
Each Expansion Deck adds 28 new cards to the game, including both new heroes and new common cards, and is designed to be playable out of the box. MSRP is $9.95 each.
Click the gallery below for images of the expansion boxes.
The first wave of Expansion Decks was released this summer (see "'Crystal Clans' Forces Expand"). With this second wave, the game now features 14 clan options.