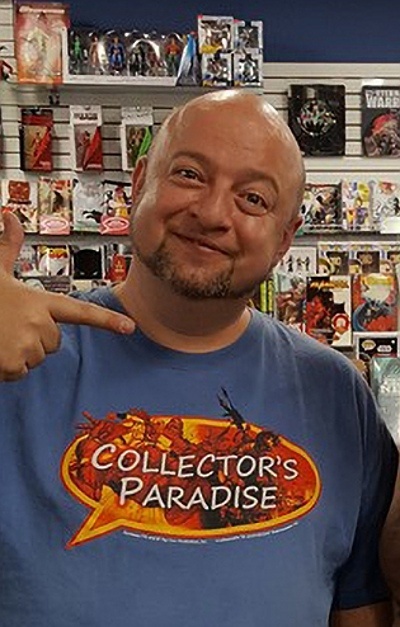 In Business 3x3, a business-owner or executive will share their experience with three things they've done right, three things they've done wrong, and what else they've learned along the way.
Ed Greenberg's story is the typical immigrant's story: Hard work, hustle, and entrepreneurship.
Greenberg immigrated to the United States from Belarus in 1988 when he was 17 years old. By age 18, he had his own business fixing computers and building computer systems. He also landed a job teaching English as a Second Language at Los Angeles' Fairfax High School, right across the street from Golden Apple. The comics world fascinated him, and he soon started buying up books he thought were going to be hot, and selling them to comic stores when the price rose.
That hustle led to 1994, when at age 23, Greenberg and a partner started their own store, Collector's Paradise, in the Winnetka neighborhood of Los Angeles. In 2010, Collector's Paradise opened a second location in Pasadena, CA. Greenberg has learned a lot in his years in business. And he's never stopped hustling.
THE GOOD
Be All-Inclusive
Greenberg wanted to make sure his stores have something for everyone, a tag he calls "all-inclusive."
"We built a model that was not all-the-way hipster, and not all-the-way superheroes," he says. "If you like comics, we have them, graphic novels, we have them, merchandise, we have it."
Greenberg says he's carefully chosen employees to represent different tastes and different strengths.
"We have the sensibilities of a quality indie store, but we never laugh at superhero comics," he says. "No matter what you want, we'll have it, and someone who can talk to you about it. I made sure that I hired the right way, to say that we're going to be that place that's going to be all‑inclusive."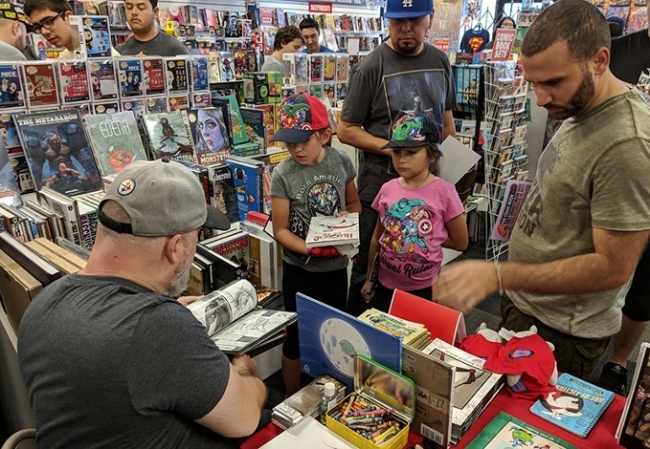 Pump the Local Art Community
Greenberg believes strongly in a personal touch as well.
"Promoting local artists and writers, becoming personal friends, and helping to grow the local art community has been very important to us," he says. "My door is always open to any local creator. I've never said no to an event or a signing."
Greenberg believes that the relationship between creators and retailers is symbiotic, and profitable.
"We end up pulling big numbers on certain things that probably don't get much attention nationwide," he says. "But they're local creators, and we do right by them."
Richard Starkings did over 20 signings at Collector's Paradise stores, and the chain does massive numbers on
Elephantmen
. "He grew his audience every time he came here," Greenberg says.
Greenberg also gets big sales upside in local talent such as Joshua Fialkov, Sam Humphries, and Aubrey Sitterson.
"We'll take a creator that we appreciate, who's local, accessible, and has a future. We'll groom their audience in the store. We don't need to groom them; they have their own life. What we do is we groom love for them in our stores."
Greenberg loves seeing the once-smaller creators go on to larger things as well.
"As they get recognized by the bigger publishers, we reap the rewards of that," he says. "We can tell our customers, 'Hey, this guy, you've met him here. You can trust that brand. You can continue buying him.'"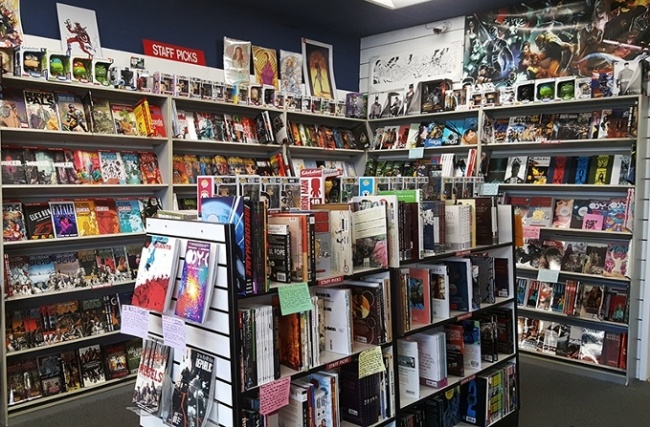 Know Your Evergreens
Greenberg wanted a focus on steady and renewable in his stores right from the jump, and he got it.
"Realizing the power of graphic novels and evergreen products early and focusing the store on it… that was important," he says. "Periodicals change all the time. But graphic novels are very predictable and sell continuously. Expanding the readership into that avenue and expanding selection to the point where we're now a comic 'bookstore' versus a 'comic book' store has probably been the smartest thing I've done, and it's made us sustainable."
THE BAD
Beware the Second Store
Most all "Business 3x3" store participants to date have lauded expansion into new locales. Greenberg… he's a little leery.
"We opened a second store, and it has not made itself the cash cow that I thought it would be," he says. "Expansion was difficult. They're doing fine, but they're not doing as well as our main store."
Hindsight is 20/20, and Greenberg now realizes he bought into high rent and tough competition.
"There's a competitive store that is right next to Pasadena College, the biggest center of young people in Pasadena," he says. "I think they siphon a lot of those people because of their proximity."
Still, Greenberg is not throwing in the towel. "Maybe I haven't put enough effort into looking for a new audience there, or wooing the college audience," he says. "We keep trying."
Need More Gaming!
Greenberg had a leg up when he opened Collector's Paradise in 1994.
Magic: The Gathering
was booming, taking the nation by storm. The problem? Greenberg didn't look for the +1.
"We were fans of
Magic
and played ourselves. We focused on
Magic
, but didn't develop other games or role‑playing. It could be a lucrative side business for us right now, but instead, we're still kind of missing out on that."
The train may be late, but Greenberg is still getting on. He's seeing exponential growth in
Dungeons & Dragons
right now.
"The amount of
D&D
books we sell has tripled in the last year," he says. "The miniatures are moving. The paintable figures are moving. The dice are moving. It's now a game parents play at home with kids. We have 12‑, 13‑year‑olds coming in and buying
D&D
books. It's a whole new audience. They've completely reimagined the game."
Don't Go Deep In Merch
Periodicals turn over and graphic novels are evergreen. Then there's the "everything else."
"Merchandise became popular a couple years ago because the movies became popular," Greenberg says. "But T‑shirts, statues, stuff that doesn't turn fast enough can take a lot of your money. We bought into a lot of that stuff, and still have a lot of it sitting."
Again, Greenberg has learned a lesson. He now looks for liquidation sales, and concentrates on value.
"The Diamond Select line has amazing quality at a ridiculous price point," he says. "But for a while, we got overstocked on a lot of higher‑end items, more high-ticket collectibles."
AND WHAT ELSE?
"Most of our events are for indie books. I don't do a lot of Marvel events. I mean, I'll take them as they come. Obviously, I'm always happy to do big events, but I try to promote local creators and local books and books from publishers that need the promotion. I'm not snobby about anything. That's the most important thing."
"If it's BOOM or Valiant, I'm going to pay a lot of attention. They're publishers we love working with; they call us for events; they're good people."
"I taught my employees what Valiant was all about, and they got lucky in that they caught a few creators that my customers really care about: Jeff Lemire and Matt Kindt. It's easier sometimes for customers to follow these guys who
don't
have a lot of stuff from Marvel and DC."
"Cover design helps sell. Hire the right guys to design your covers, spend the money. And then get in front of the retailers. Aftershock is actually doing a good job of that."
Click Gallery below for store and event photos!