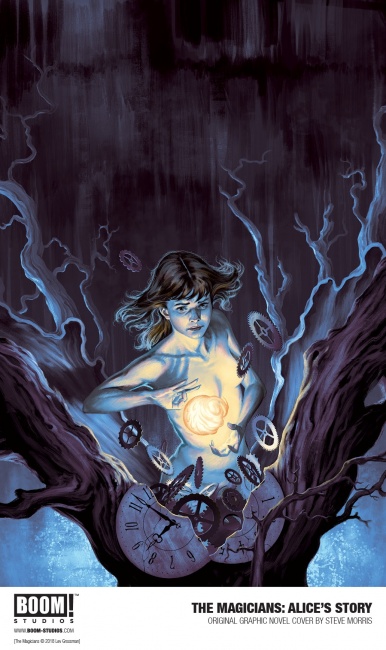 BOOM! Studios has acquired the license to publish comics and graphic novels set in the universe of Lev Grossman's bestselling
The Magicians
trilogy. The first release in the partnership is
The Magicians: Alice's Story
, a hardcover original graphic novel from writer Lilah Sturges (
Lumberjanes: The Infernal Compass, Jack of Fables
) and artist Pius Bak. Steve Morris (
Buffy the Vampire Slayer
) covers the volume, which will be in stores in July 2019.
Most of the action in The Magicians, which was originally published in 2009, is set at Brakebills College for Magical Pedagogy, a Hogwarts analog for the drinking-age set, and the magical realm of Fillory, a decidedly darker and more violent take on Narnia. Alice's Story centers on the untold secrets of The Magician's lead Alice Quinn, a brilliant magician who adventures to Fillory alongside Quentin Coldwater and finds that the idyllic land of their favorite children's books isn't quite so sublime.
The Magicians also inspired a hit Syfy TV series, which will kick off its fourth season in 2019 (see "DVD Round-Up: 'A Quiet Place,' 'Lean on Pete,' 'Last Man on Earth,' 'The Magicians,' & 'Mosaic").