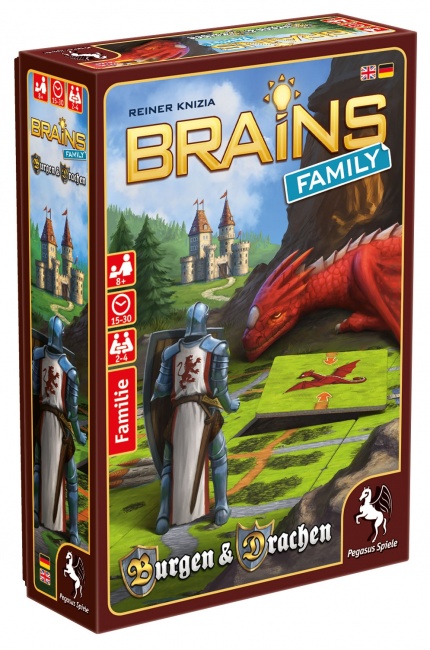 German game publisher Pegasus Spiele is premiering five games at the
Spiel
fair in Essen, Germany next week, with a U.S. release to follow:
Brains Family – Castles & Dragons
,
Showtime
,
Adventure Island
,
Crown of Emara
, and
Castle Rampage
.
Brains Family – Castles and Dragons is a conversion of the solitaire puzzle game Brains into a competitive family game, designed by Dr. Reiner Knizia. Players try to be the first to solve the puzzle, formed from a set of tiles showing roads, castles, and dragons. The first player to win three rounds wins the game.
For 2 to 4 players, ages 8 and up. Comes with 50 cards, 60 tiles, 4 game boards, 4 knight figures, and 9 shields. MSRP is $24.99.
In
Showtime
, players try to find the best seats at a movie premiere, avoiding noisy snackers, tall moviegoers who block the screen, and other annoyances. The player who can best seat their audience over three movies wins.
Created by Ann Oppolzer (Beasty Bar: New Beasts in Town) and Stefan Kloss (Beasty Bar) the game is for 2 to 4 players, ages 8 and up. Game includes 1 playing board, 4 seating boards, 60 cards, and 5 tokens. MSRP is $29.99.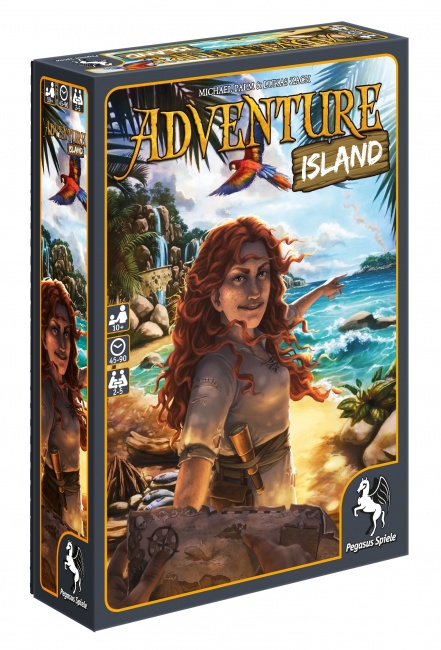 Featuring some legacy-style elements,
Adventure Island
challenges players to work together to survive after their ship is wrecked and they find themselves on a deserted island. Each successful adventure unlocks permanent bonuses and opens up new parts of the story, but the game is designed so that no components are destroyed, allowing it to be played multiple times.
Adventure Island was created by Michael Palm and Lukas Zach (the designers of BANG! The Dice Game and The Dwarves), and comes with 180 cards, 7 card dividers, 60 tiles, and 30 tokens. Intended for 2 to 5 players, ages 10 and up. MSRP is $39.99.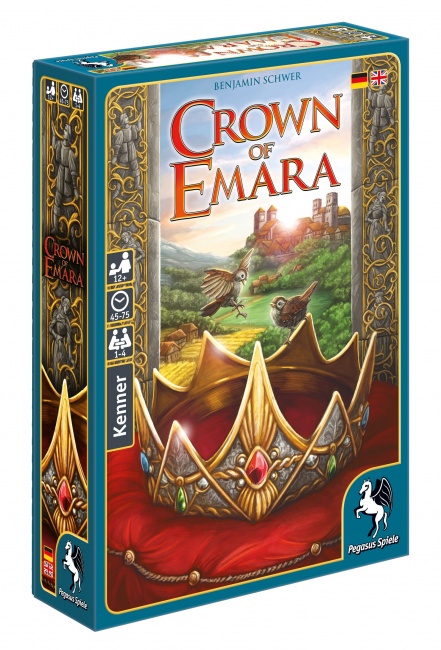 In Benjamin Schwer's (
Livingstone, Yeti
)
Crown of Emara
, players must prove their worth to the benevolent King Theodorius the Wise by showing that they can properly house and provide for newly arriving citizens, using a combination of card play and worker movement.
Crown of Emara includes 100 cards, 1 scoring track, 4 player boards, 1 main board, 16 books, 102 tokens, 1 three-piece statue, 4 overview cards, 28 pawns, and 4 buildings. The game supports 1 to 4 players, ages 12 and up. MSRP is $49.99.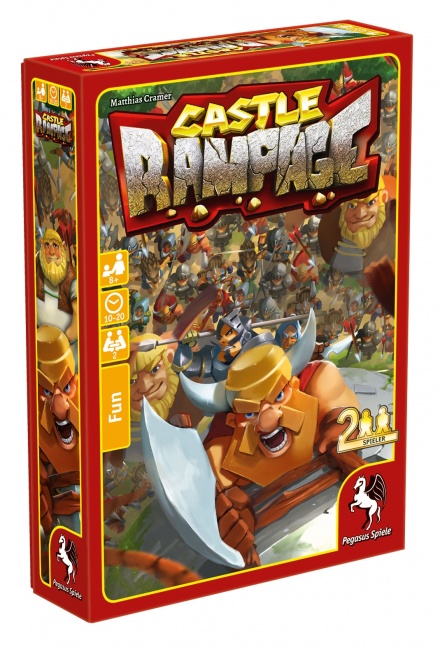 Rounding out the new releases is
Castle Rampage
, from Matthias Cramer (
Lancaster
,
Glen More
). Inspired by the "tower defense" genre, this card game challenges players to build effective defenses for their own castle while trying to raze their opponent's stronghold at the same time.
Castle Rampage comes with 120 cards. Intended for 2 players, ages 8 and up. MSRP is $14.99.
Following a limited debut at Gen Con (see "A Familiar World Gets a New Twist in 'Talisman – Legendary Tales'"), the licensed Talisman – Legendary Tales was expected to release at Spiel as well, but the production has been delayed, pushing the release date back to October 30.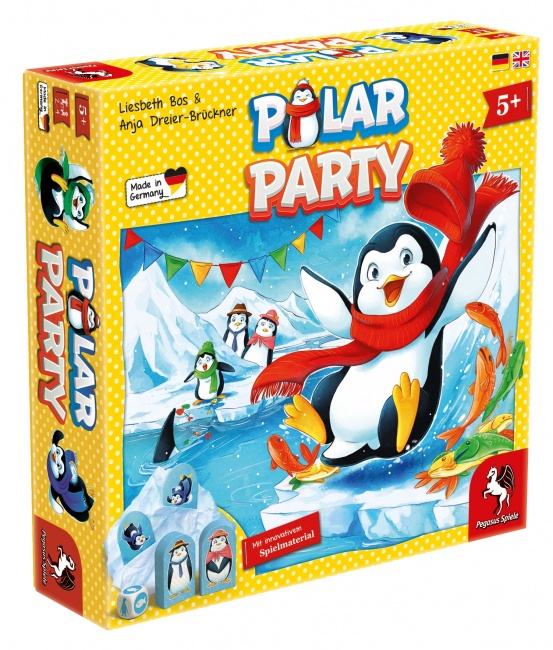 Pegasus is also teasing
Polar Party
, a children's game featuring playful penguins, which will release in the U.S. in 2019. Details to come.
Click on the gallery below to see some of the components from a few of the new titles.