The latest geek movie news roundup has pocket monsters, the MCU, cat and mouse, and much more.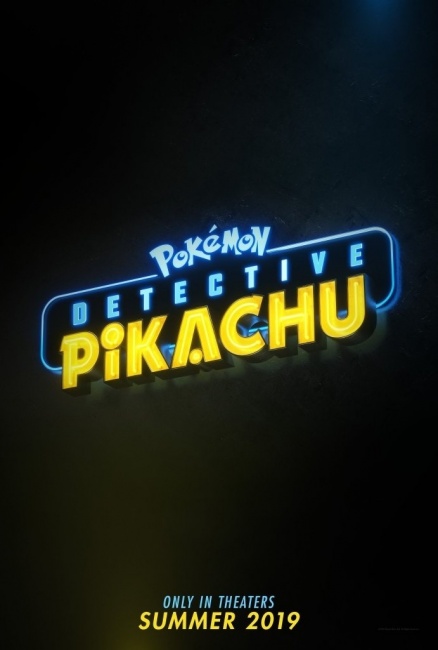 The plot for the live-action take on Nintendo's
Detective Pikachu
game has been revealed (via
Graphic Policy
). Justice Smith's Tim Goodman is on the hunt for his missing father, ace private eye Harry Goodman, with the aid of Harry's wise-cracking former partner, Detective Pikachu, who is voiced by Ryan Reynolds. The action takes place on the neon-lit streets of Ryme City, where humans and Pokemon live side-by-side. The Legendary film, which is being distributed by Warner Bros. (see "
'Detective Pikachu' Moves to Warner Bros.
"), also stars Suki Waterhouse, Ken Watanabe, Kathryn Newton, Bill Nighy, and Chris Geere (see "
'Super Mario' Gets Animated, 'Cowboy Ninja Viking' Lands Director, John Cena for 'Duke Nukem'?
") and is in theaters May 10, 2019 (see "
Best in Shows--Q2 2019
").
Tom Holland revealed Spidey's new suit for
Spider-Man: Far From Home
during a segment on
Jimmy Kimmel Live!
When Jimmy inquired about how the film fits in with the continuity of
Avengers: Infinity War
, Holland declared that he had to run because "I think Thanos is robbing a bank… or something." Spider-Man, Samuel L. Jackson's Nick Fury, and Cobie Smulders' Maria Hill will be far from home (and presumably less dusty) when the sequel to
Spider-Man: Homecoming
hits screens on July 5, 2019 (see "
'Star Trek 4' Stars Balk at Pay Cuts, Casting for 'Sonic,' and 'Bloodshot'
").
The starting gun for the Flash standalone film from Warner Bros. won't be firing in March as originally planned. The studio is pushing back filming while the script is being tweaked reports
Variety
. Due to scheduling conflicts with the third installment of
Fantastic Beasts
, the
Harry Potter
spinoff in which Flash star Ezra Miller has a significant supporting role, that likely means won't get rolling again until late 2019, and the film will have a 2021 release date. This is the latest delay for the project, which has twice seen the replacement of the director (see "
Raimi on 'Kingkiller,' Kirkman and Universal Adapt 'Birthright,' 'Detective Pikachu' Adds Watanabe
").
Two of Warner Bros.'s animation projects are in talks with top-flight talent.
Ride Along
and
Shaft
reboot director Tim Story is in negotiations for a hybrid live-action / animated take on
Tom and Jerry
, and Chris Columbus has been signed as creative producer for the new
Scooby-Doo
animated movie (via
Variety
).
Tom and Jerry
is expected to go into production in 2019, with animated versions of the titular cat and mouse being added to real-world shots. Further, sources indicate that Tom and Jerry will maintain the non-verbal characteristics of the cartoons.
Scooby-Doo
is expected to hit screens in the first quarter of 2020, with Columbus working alongside director Tony Cervone (see "
Dazzler in 'Dark Phoenix,' 'Jurassic World 2' Set, 'Spider-Man' Trilogy, More
").
The Russo Brothers announced the wrap of filming on the fourth
Avengers
film with a cryptic photo on Twitter. The image shows a glowing blue object, and given that a good portion of the MCU didn't survive
Avengers: Infinity War
-- including several characters who have solo sequels on the calendar -- conjecture is rampant, with many concluding it might be a Cosmic Cube. We'll find out when
Avengers 4
opens on May 3 (see "
Best in Shows--Q2 2019
").
The
Black Panther
sequel is officially a go with the news that director Ryan Coogler has signed on to write and direct the return to Wakanda. Sources indicate that production will start in late 2019 or 2020, according to
The Hollywood Reporter
. The first film debuted in February to universal praise from both critics and audiences. Widely considered an Oscar contender,
Black Panther
became only the third film in history to take in more than $700 million domestically (see "
'Mission: Impossible-Fallout' Flashes Some 'Legs'
"), and it won the Harvey for best adaptation (see "
Harvey Awards Go To 'Monstress,' 'Black Panther' Movie
"). The film take on the king of Wakanda also put a spotlight on various supporting characters, with the Dora Milaje (see "
The Dora Milaje Break Out in 'Wakanda Forever'
"), scientific genius Shuri (see "
All Hail Shuri
", and conflicted villain Killmonger (see "
New Tale Illuminates Killmonger's Dark Road
") all getting comic book miniseries in the wake of the success of the movie.